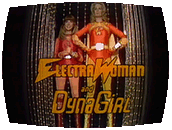 Spider Lady infiltrates the Electra Base in the guise of Electra Woman, but her odd behavior is a tip-off to Dyna Girl. "Electra Woman" steals the golden spider of Baklava, but she is soon cornered by Dyna Girl and the real Electra Woman. The Spider Lady and Electra Woman both say they are Electra Woman, but only one of them is…and the decision as to which one will be set free now lies with Dyna Girl.
written by Gerry Day and Bethel Leslie
directed by Walter Miller
music not credited

Cast: Deidre Hall (Lori / Electra Woman), Judy Strangis (Judy / Dyna Girl), Norman Alden (Frank Heflin), Tiffany Bolling (The Spider Lady), Bruce Fischer (Spinner), Robert Raymond Sutton (Leggs), Andrea Lovell (Electra Woman's Clone)Marvin Miller (Narrator)

Notes: Baklava may be foreign, but it is not a country. It is, however, delicious.
LogBook entry by Earl Green