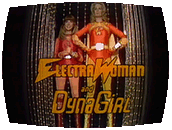 The embassy of the foreign country Baklava invites the press to view the Golden Spider, a priceless artifact from Baklava that has never before been on public display, and Lori and Judy are in attendance with a third reporter. Frank's Crime Scope alerts him to the fact that a notorious criminal, the Spider Lady, has arrived in town at the same time, almost certainly not a coincidence. The two heroines rush into danger, and Electra Woman is captured. Spider Lady uses her amazing abilities of disguise to assume Electra Woman's form.
written by Gerry Day and Bethel Leslie
directed by Walter Miller
music not credited

Cast: Deidre Hall (Lori / Electra Woman), Judy Strangis (Judy / Dyna Girl), Norman Alden (Frank Heflin), Tiffany Bolling (The Spider Lady), Bruce Fischer (Spinner), Robert Raymond Sutton (Leggs), Andrea Lovell (Electra Woman's Clone), Andy Veneto (Monk), Marvin Miller (Narrator)

Notes: This is the only instance in the entire series that the Electra Car is seen on location outside of Electra Base. All of the vehicle's other appearances were shot in front of bluescreen for special effects shots showing it driving or flying. Andrea Lovell is better known as Andrea Hall, Deidre Hall's twin sister. Guest star Tiffany Bolling would go on to star in a big-screen spider-stravaganza, 1977's Kindom Of The Spiders, opposite William Shatner.
LogBook entry by Earl Green