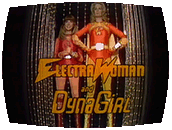 Reporters Lori and Judy are called away from their latest assignment, not for a bigger story, but to fight crime in their secret identities as Electra Woman and Dyna Girl. Helping them is Frank Heflin, a genius with gadgets and gizmos who keeps a watchful eye out for evildoers.
A criminal known as the Sorcerer has escaped from prison, using magic and sleight of hand as usual. He announces that his next goal is to steal all the gold in Fort Knox…and he has enlisted some beastly help to keep the two superheroines away from him.
written by Dick Robbins and Duane Poole
directed by Walter Miller
music not credited

Cast: Deidre Hall (Lori / Electra Woman), Judy Strangis (Judy / Dyna Girl), Norman Alden (Frank Heflin), Michael Constantine (The Sorcerer), Susan Lanier (Miss Dazzle), Marvin Miller (Narrator)

Notes: Electra Woman & Dyna Girl was part of the original fall 1976 lineup of the Krofft Supershow, a weekly Saturday morning buffet of the kind of shows that only Sid and Marty Krofft could dream up. Each show aired one segment, usually around 12 minutes long including titles, within the hour-long show, and two-part stories such as every Electra Woman & Dyna Girl adventure would stretch out over two weeks. Syndication packages and DVD releases have made a habit of editing the two-part stories together as single 20+ minute long episodes.
LogBook entry by Earl Green