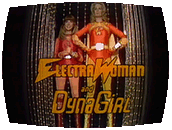 With Electra Woman and Dyna Girl out of the way, the Empress of Evil once again invades the Electra-Base, intent on doing away with Frank and the Crime Scope, which would allow her to embark on an unchecked crime spree. When Electra Woman finally frees herself and Dyna Girl from the Empress' trap, the race is on to stop the Empress from carrying out her plans.
written by Dick Robbins and Duane Poole
directed by Walter Miller
music not credited

Cast: Deidre Hall (Lori / Electra Woman), Judy Strangis (Judy / Dyna Girl), Norman Alden (Frank Heflin), Claudette Nevins (The Empress), Jacquelyn Hyde (Lucretia)

Notes: Claudette Nevins was also the voices of Judy Franklin and Nova in 1975's animated series Return To The Planet Of The Apes, and guest starred in (among many others) M*A*S*H, Police Squad, Out Of This World, Lois & Clark, and JAG. Movie appearances included Star Trek: Insurrection and Sleeping With The Enemy.
LogBook entry by Earl Green