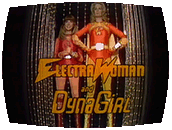 As Electra Woman and Dyna Girl are covering an international gathering of influential scientists in their plain-clothes journalist alter egos, the diabolical criminal mastermind Ali Baba and his genie accomplice pluck an airplane out of the sky. That plane was carrying Professor Nabokov to the scientists' conference, but Ali Baba wants the professor to hand over a formula that can change a person's personality completely. When the two superheroines arrive to free the professor, Ali Baba uses the formula to turn Dyna Girl from Electra Woman's greatest ally to her adversary.
written by Dick Robbins and Duane Poole
directed by Walter Miller
music not credited

Cast: Deidre Hall (Lori / Electra Woman), Judy Strangis (Judy / Dyna Girl), Norman Alden (Frank Heflin), Malachi Throne (Ali Baba), Sid Haig (The Genie), Ian Martin (Nabokov)

Notes: When you want flamboyant, exotic villainy, you want to cast Sid Haig. Perhaps best known for his stint as Dragos, the primary enemy of Jason Of Star Command, Haig has also appeared on Star Trek, Mission: Impossible, Batman, The Six Million Dollar Man, Buck Rogers In The 25th Century, Automan, and Sledge Hammer!, among countless others, with big screen roles in THX-1138, Diamonds Are Forever, Kill Bill Vol. 2, and more.
LogBook entry by Earl Green