Following their hurried escape from Castrovalva, the TARDIS' new passengers try to get accustomed to one another, as well as to the new Doctor. The TARDIS lands in what appears to be an underground cave, though signs of more advanced artificial structures are found within. Adric accidentally bumps into one of these structures, and suddenly creatures appear, absconding with the unoccupied TARDIS. The Doctor and Adric pursue them, while Nyssa and Tegan find that there are other humans there, namely a party of anachronistic explorers. The search for the TARDIS leads the Doctor and Adric to a crashed spacecraft whose crew fears other creatures that lurk in the night. Other groups of humans are found as well: a seemingly medieval kingdom, a monastery whose existence revolves around scientific contemplation and study, and more. In each scenario, there are three people, and as the Doctor and his companions encounter them all, deaths begin to occur. But as much guilty as the time travelers feel for the mounting deaths, they're even more shocked to learn that they're just as responsible for bringing everyone they meet into existence.
written by Jonathan Morris
directed by Ken Bentley
music by Fool Circle Productions

Cast: Peter Davison (The Doctor), Janet Fielding (Tegan), Sarah Sutton (Nyssa), Matthew Waterhouse (Adric), Robert Whitelock (Professor Rickett / King Magus / Denyx), Phil Mulryne (Magpie / Calcula / Prince Erdos), Camilla Power (Perditia / Jenessa / Zaria), Bethan Walker (Javon / Pyrrha / Queen Antigone)

Timeline: after Castrovalva and before Iterations Of I and Four To Doomsday
LogBook entry and TheatEar review by Earl Green
Review: What if you took that little vignette from Kinda – the old couple playing board games in Tegan's subconscious, representing Nyssa and Adric – and stretched it out to cover an entire story? That seems to be the jumping-off point for Psychodrome, an adventure positioned immediately after

Castrovalva, and providing something that the high-concept TV debut of the fifth Doctor didn't provide: a shakedown cruise for the new TARDIS Crew.
Castrovalva, as engrossing as it was on TV, immediately separates the entire TARDIS team. The Doctor is a new man who doesn't even know who he is, Adric has been abducted by the Master, and only Nyssa and Tegan get any kind of time to bond. Psychodrome does much the reverse: it forces the new TARDIS travelers into a situation in which they must learn to trust each other, while their doubts about one another are brought forcefully to the surface.
The big draw for Psychodrome and the other story in the drearily generically-titled Fifth Doctor Box Set is the return of Matthew Waterhouse as Adric: a part that he hadn't played in 29 years when he stepped into the recording studio with Peter Davison and company. Given how much time has passed, it's shocking to hear how very Adric-like Waterhouse is still capable of sounding. The ear does detect him forcing his voice into a higher, "adolescent" register, but between his performance and a pitch-perfect early '80s Radiophonic Workshop-style music score, the effect is astounding. As with the best Big Finish output, it sounds like an audio recording of some lost episode.
The story itself is somewhat predictable, and the script is aware of this too, as the Doctor taunts and mocks King Magus in parts three and four when the latter turns out to be formed at least partially of the Doctor and Nyssa's impressions of the Master. This short-circuits some of the predictability, and yet it's easy to tell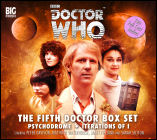 what's going on long before the TARDIS travelers figure it out. Kudos are due to the very small guest cast, each of them playing three parts throughout with very distinct performances.
It's actually good to have Adric back. I'm one of about four people in the world who seem to unreservedly like the character, whose awkwardness and social ineptitude probably hits too close to home for many fans to enjoy the character on his own merits. Here, his aggravating indeptendent streak is faithfully recreated, along with some nobler shadings that demonstrate that there was always a more tolerable character waiting to be found.