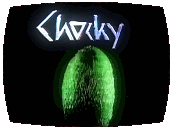 The Gores' concern for Matthew's mental well-being grows as he continues reporting what strange things he's heard from Chocky. David contacts a friend who happens to be a forward-thinking psychologist, asking him to talk with Matthew to conduct an initial assessment. It does little to help the Gores' nerves when they hear his conclusion: Matthew may well be in contact with the extraterrestrial intelligence that he has claimed existed all along.
written by Anthony Read
based on the novel by John Wyndham
directed by Vic Hughes
music not credited

Cast: Carol Drinkwater (Mary), James Hazeldine (David), Andrew Ellams (Matthew), Zoe Hart (Polly), Jeremy Bulloch (Landis), James Greene (Mr. Trimmble), Devin Stanfield (Colin), Patrick Blackwell (Boatman), Gary Raynsford (Policeman), Glynis Brooks (Chocky's voice)

Notes: Boba Fett, child psychologist! Less than a year after Return Of The Jedi hit theaters, Jeremy Bulloch was, like most working actors, pursuing roles other than the one which had briefly made him famous even without showing his face. Odds are that he still gets asked about Star Wars more often than he does about Chocky.
LogBook entry by Earl Green