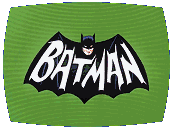 As businessmen and investors across Gotham City reel from live news coverage of a stock market meltdown, the news broadcast is interrupted by the friendly face of a singing minstrel…who, after a song, demands a thousand dollars a week from all of Gotham's investors to prevent a repeat of the stock market crash. Batman discovers that the computers at the stock exchange have been bugged and decides to wait for the Minstrel's next move…but the Minstrel is also patiently laying a trap of his own for the Caped Crusaders.
written by Francis & Marian Cockrell
directed by Murray Golden
music by Nelson Riddle / Batman theme by Neal Hefti

Cast: Adam West (Batman), Burt Ward (Robin), Alan Napier (Alfred), Neil Hamilton (Commissioner Gordon), Stafford Repp (Chief O'Hara), Madge Blake (Mrs. Cooper), Van Johnson (The Minstrel), Leslie Perkins (Amanda), Remo Pisani (Bass), Norman Grabowski (Treble), Del Moore (TV Newsman), Army Archerd (Putnam), John Gallaudet (Cortland), Eddie Garrett (First Broker), Herbert Maass (Second Broker), Stu Wilson (Third Broker), Phyllis Diller (Cleaning Lady)

Notes: Phyllis Diller (1917–2012) goes uncredited on screen for the show's latest celebrity cameo; she had just launched her own series, the short-lived Phyllis Diller Show, on ABC just one night before Batman's new season premiered. Army Archerd (1922–2009) made numerous acting appearances, but was also a columnist for Daily Variety for over fifty years, and produced the People's Choice Awards telecasts for many years.
LogBook entry by Earl Green