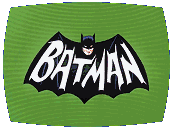 Robin is distraught when he discovers that Susie, the head cheerleader at his high school, has become a pawn of the Joker. Batman suggests that the Boy Wonder can help, but not as Robin – he instead goes undercover as Dick Grayson, but his attempt to act like a high school dropout doesn't fool the Joker…and this places Susie's life in jeopardy unless the Joker can be stopped.
written by Lorenzo Semple, Jr.
directed by Murray Golden
music by Nelson Riddle / Batman theme by Neal Hefti

Cast: Adam West (Batman), Burt Ward (Robin), Alan Napier (Alfred), Neil Hamilton (Commissioner Gordon), Stafford Repp (Chief O'Hara), Madge Blake (Mrs. Cooper), Cesar Romero (The Joker), Donna Loren (Susie), Kip King (Nick), Greg Benedict (Two Bits), Jim Henaghan (Fulton), Dick Bellis (Joe), Cherie Foster (Cheerleader I), Linda Harrison (Cheerleader II), Breeland Rice (Policeman)

Notes: Just two years before Planet Of The Apes made her a household name, Linda Harrison makes her first on-screen appearance in this episode of Batman. She would go on to play Wonder Woman in an unaired pilot, Who's Afraid Of Diana Prince?, filmed (and rejected) in 1967; it would be the 1970s (and two actresses later) before Wonder Woman, Batman's DC Comics stablemate, would become a fixture of prime time.
LogBook entry by Earl Green