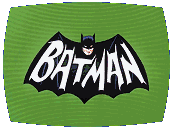 While Batman and Robin set their sights on escaping the Catwoman's trap, while Catwoman herself sets her sights on the target of her next heist: the Gotham State Bank. Batman isn't far behind her, but this time Catwoman has more than one escape plan up her sleeve…but will she put herself in danger mortal just to get away from the Dynamic Duo with the loot?
written by Stanley Ralph Ross
directed by Don Weis
music by Nelson Riddle / Batman theme by Neal Hefti

Cast: Adam West (Batman), Burt Ward (Robin), Alan Napier (Alfred), Neil Hamilton (Commissioner Gordon), Stafford Repp (Chief O'Hara), Madge Blake (Mrs. Cooper), Julie Newmar (Catwoman), Jack Kelly (Jack O'Shea), George Barrows (Charles), Charles Horvath (Thomas), George N. Neise (Douglas Cramer), James Brolin (Driver), David Fresco (Zubin Zucchini)

Notes: Yes, it's that James Brolin, in the first of three guest shots on Batman. He later appeared in Westworld, Capricorn One, Marcus Welby M.D., The Amityville Horror, and Hotel, among many other TV and film appearances.
LogBook entry by Earl Green