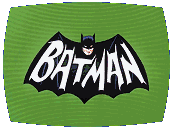 A felonious marksman known as the Archer fires an arrow into stately Wayne Manor, releasing a knock-out gas that renders Bruce Wayne and the other occupants of the mansion unconscious. The Archer and his cohorts steal Wayne's millions from a hidden safe, handing them out to the poor of Gotham City. Now the problem for Batman and Commission Gordon becomes one of image: will the police and the Caped Crusaders find themselves up against public opinion trying to capture a villain who claims to be trying to help the poor?
written by Stanley Ralph Ross
directed by Sherman Marks
music by Nelson Riddle / Batman theme by Neal Hefti

Cast: Adam West (Batman), Burt Ward (Robin), Alan Napier (Alfred), Neil Hamilton (Commissioner Gordon), Stafford Repp (Chief O'Hara), Madge Blake (Mrs. Cooper), Art Carney (The Archer), Barbara Nichols (Maid Marilyn), Robert Cornthwaite (Allan A. Dale), Doodles Weaver (Crier Tuck), Loren Ewing (Big John), Archie Moore (Everett Bannister), Robert Adler (First Poor Person), Heidi Jensen (Second Poor Person), Kitty Kelly (Third Poor Person), Dick Clark (himself)

Notes: The skyrocketing popularity of Batman (and the success of its brief detour onto the big screen) led to the introduction of celebrity cameos, often in "climbing the Bat-rope" scenes; many of these involved stars of Batman's stablemates on the ABC network, such as Dick Clark, host of American Bandstand.
LogBook entry by Earl Green