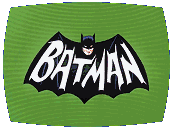 In the wake of Bruce Wayne's kidnapping, Batman appears on TV to report that he has "rescued" Wayne and will be taking a brief leave to conduct research. Enraged, King Tut orders his henchmen to kidnap Wayne again, this time mounting a raid on stately Wayne Manor…only this time, Batman is ready and waiting, "disguising" himself as Bruce Wayne so he can infiltrate Tut's criminal operation. But Batman's Trojan horse plan doesn't go quite as he intended…
written by Robert C. Dennis and Earl Barret
directed by Charles R. Rondeau
music by Nelson Riddle / Batman theme by Neal Hefti

Cast: Adam West (Batman), Burt Ward (Robin), Alan Napier (Alfred), Neil Hamilton (Commissioner Gordon), Stafford Repp (Chief O'Hara), Madge Blake (Mrs. Cooper), Victor Buono (King Tut), Ziva Rodann (Nefertiti), Don Barry (The Grand Vizier), Frank Christi (The Scrivener), Olan Soule (Newscaster), Bill Boyett (Policeman)

Notes: Victor Buono (1938–1982) would go on to appear in Beneath The Planet Of The Apes, Night Gallery, Supertrain, and a recurring role in Man From Atlantis, but he enjoyed his association with Batman, identifying himself years after the series as "the Fat Man from Batman".
LogBook entry by Earl Green