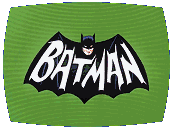 With Chief O'Hara in his clutches and the Caped Crusaders tied to the tracks in the path of an oncoming train, it seems that False Face has engineered the downfall of the Dynamic Duo. But a betrayal within the ranks of his hangers-on results in an about-face for Batman's fortunes. Can someone as utterly scrupulous as Batman beat False Face at his own game of planting traps within traps?
written by Stephen Kandel
directed by William Graham
music by Nelson Riddle / Batman theme by Neal Hefti

Cast: Adam West (Batman), Burt Ward (Robin), Alan Napier (Alfred), Neil Hamilton (Commissioner Gordon), Stafford Repp (Chief O'Hara), Madge Blake (Mrs. Cooper), Malachi Throne (False Face), Myrna Fahey (Blaze), Billy Curtis (Midget), Joe Brooks (Fat Man), Chuck Fox (Thin Man), Gary Owens (TV Announcer), Mike Ragan (Cowboy)

Notes: Yes, that is the true face of famed radio and television announcer Gary Owens (1934-2016). Guest star Mike Ragan (1916-1995) began appearing in westerns about as soon as Hollywood started making them, with his first such credit in 1947's Buffalo Bill Rides Again; his enormous list of TV credits includes The Adventures Of Wild Bill Hickok, The Roy Rogers Show, The Gene Autry Show, The Lone Ranger, Cheyenne, Wagon Train, The Life And Legend Of Wyatt Earp, Rawhide, and a dozen separate appearances on Bonanza. It is not until the end credits of this episode that Malachi Throne is credited with playing False Face.
LogBook entry by Earl Green