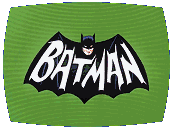 A furious fight ensues before the Joker can unmask Batman and Robin on live TV, but during this fight, Batman discovers that the Joker has his own utility belt, modeled after Batman's own indispensible crime-fighting gear. In their next fight, the Joker swaps Batman's belt with his own, leaving the Dynamic Duo helpless to catch him. With a well-publicized appearance to attend, and Gotham City's media questioning their competence, Batman and Robin are certain that they're walking into another trap set by the Joker.
written by Robert Dozier
directed by Don Weis
music by Nelson Riddle / Batman theme by Neal Hefti

Cast: Adam West (Batman), Burt Ward (Robin), Alan Napier (Alfred), Neil Hamilton (Commissioner Gordon), Stafford Repp (Chief O'Hara), Madge Blake (Mrs. Cooper), Cesar Romero (The Joker), Nancy Kovack (Queenie), Jerry Dunphy (Newscaster), Al Wyatt (Henchman #1), Angelo de Meo (Henchman #2)

Notes: The Joker's crime wave in this episode and the previous one is described as the worst in Gotham City's history. (It's only the sixth episode of the series.) The Joker is sent back to prison, but returns to cause Batman trouble again within 10 episodes.
LogBook entry by Earl Green