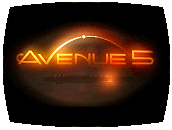 Beep. The fallout from the Halfway Home party continues, as passenger liaison Karen Kelly demands an apology from Judd, who led the crowd into nearly throwing her husband out of an airlock. Judd seems less than contrite. Beep. In the meantime, everyone aboard does have a reason to celebrate, even if they're not really halfway home: the first baby born in space has just been born aboard Avenue 5. Beep. Captain Clark and Billie – among others – have been noticing a periodic "beep" being broadcast throughout the ship. Ex-astronaut Spike Martin thinks that it might be an indication of a slow oxygen leak, but even a slow one will doom everyone aboard. Beep. Judd turns his attention to the ring of human excrement orbiting the ship, and hatches an audacious plan to coat all of it with glitter and sequins, and then using the ship's external lighting to turn it into something more decorative. Beep. On Earth, Rav Mulcair secures emergency funding for a rescue effort…but is asked to consider the possibility that, really, not everyone needs to make it off of Avenue 5 alive. Beep. As news of the oxygen leak spreads by word of mouth, dread grows among the passengers that every breath – and every beep – could be the last. Beep.
teleplay by Jon Brown
story by Armando Iannucci & Jon Brown
directed by Peter Fellows
music by Adem Ilhan

Cast: Hugh Laurie (Captain Ryan Clark), Josh Gad (Herman Judd), Zach Woods (Matt Spencer), Rebecca Front (Karen Kelly), Suzy Nakamura (Iris Kimura), Lenora Crichlow (Billie McEvoy), Nikki Amuka-Bird (Rav Mulcair), Ethan Phillips (Spike Martin), Andy Buckley (Frank Kelly), Jessica St. Clair (Mia), Kyle Bornheimer (Doug), Himesh Patel (Jordan Hatwal), Yasmine Akram (Mother), Joseph Balderrama (Tim), Kelly Bennett (Passenger), Rachel Handshaw (Teri), Brigid Leahy (Ella), Amanda Blake (White House Staffer), Mark Heenehan (Passenger), Stuart Milligan (Passenger), Josephine Jobert (Passenger), Alana Maria (Tina), Anna Siow (Secretary of State), Alex Harvey Brown (Wade), James Carroll Jordan (Crossbow Guy), Talal Karkouti (Passenger)

Notes: Stuart Milligan is an old hand at the sci-fi genre, with a resume including (among many other things) a 2011 Doctor Who two–parter in which he guest starred as President Richard Nixon, roles in Sky Captain And The World Of Tomorrow and The Young Indiana Jones Chronicles, and numerous voice roles for animation and video games. Beep.
LogBook entry by Earl Green