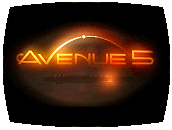 Captain Clark admits to his passengers that they're now facing a trip home that will last about three years. On Earth, Rav Mulcair and the other Judd Galaxy mission controllers huddle to come up with solutions, including soliciting help from NASA. While the American space agency is willing to help, that help will come at a price – one that, when he sees the numbers, Herman Judd is unwilling to pay. One of the ship's junior engineers hurries to the bridge to see Clark, insisting that the trajectory estimates are wrong: he believes Avenue 5 will only need six months to return home. Billie, promoted to chief engineer after Joe's demise, warns Clark that this new information can't possibly be right. In the meantime, however, Clark has to attend to four very public funerals, one of them Joe's, along with the fact that Avenue 5's artificial gravity will turn all of the coffins into artificial satellites, slowly revolving around the ship for the rest of its journey.
teleplay by Georgia Pritchett & Will Smith
story by Armando Iannucci & Georgia Pritchett & Will Smith
directed by Natalie Bailey
music by Adem Ilhan

Cast: Hugh Laurie (Captain Ryan Clark), Josh Gad (Herman Judd), Zach Woods (Matt Spencer), Rebecca Front (Karen Kelly), Suzy Nakamura (Iris Kimura), Lenora Crichlow (Billie McEvoy), Nikki Amuka-Bird (Rav Mulcair), Ethan Phillips (Spike Martin), Andy Buckley (Frank Kelly), Matthew Beard (Alan), Jessica St. Clair (Mia), Kyle Bornheimer (Doug), Neil Casey (Cyrus), Joplin Sibtain (Joe), Julie Dray (Nadia), Adam Pålsson (Bridge Crew), Wanda Opalinska (Baily), Yasmine Akram (Passenger), Priyanga Burford (Lori Hernandez), Eddie Register (Gareth), Nancy Crane (Susan), Sandra Gayer (Passenger), Leke Adebayo (Pierre), Daisy May Cooper (Sarah – bridge crew), Angelique Fernandez (Passenger), Rae Lim (Devon), Akie Kotabe (Kitchen Worker), Phaldut Sharma (Sanji)

Notes: This isn't actor Neil Casey's first sci-fi-sitcom experience – he was a series regular on Paul Feig's short-lived series Other Space, which premiered on the equally short-lived Yahoo! Screen streaming service.
LogBook entry by Earl Green