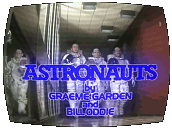 An all-British crew prepares for a mission to an Earth-orbiting space station. Astronaut Mattocks is a stuff-upper-lip, salt-of-the-Earth family man for whom the flight will be his crowning achievement; Ackroyd is a bundle of nerves who'd really rather stay on Earth. Accompanying both men is a single female astronaut, Foster, a medical specialist who will monitor the crew's health, both physical and mental; a dog named Bimbo will also travel to the station for further medical tests and experiments. Communications problems arise at critical times due to technical glitches and a gung-ho American mission controller. By the time the new crew of the space station arrives, they're sure of only one thing: it'll be hard for them to stand one another long enough for a record-setting space endurance mission.
written by Graeme Garden and Bill Oddie
directed by Dick Clement

Cast: Christopher Godwin (Mattocks), Carmen Du Sautoy (Foster), Barrie Rutter (Ackroyd), Bruce Boa (Beadle), Mary Healey (Valerie), Ben Aris (Reporter), Diana Berriman (Reporter), Barry Lower (Reporter), Hilton McRae (Reporter), Pamela Miles (Reporter), Hugh Walters (Reporter), Michael Delorzo (Mattocks' Kid), Julian Delorzo (Mattocks' Kid), and Bimbo (himself)

Notes: This space-set sitcom seems to take place in an alternate universe in which Skylab survived 1979 (it didn't) and British astronauts were still flying Apollo spacecraft (a vehicle which stopped flying in 1975). Created by The Goodies writer/performers Graeme Garden and Bill Oddie, the show was popular enough to merit a second season in 1983. The first season has neither a theme tune or incidental music.
LogBook entry by Earl Green