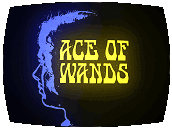 A suspicious Sam prevents Tarot from drinking the poisoned coffee, and again, Tarot is able to break the spell over Lulli, bringing her out from under Mr. Stabs' control. But when she reveals that Stabs has the photo of the missing segment of the map, it's clear that this race for an ancient secret is in a dead heat: everyone now has the complete map, it's just a matter of who can decipher it and reach it first. The map leads to a dangerous abandoned well in a graveyard near the ruins of a castle, and Sam decides it's safest for him to scale his way down the well to find part of the symbol that will unlock the secret. The other part of the symbol is under a large, marked stone, guarded by a particularly poisonous snake, though Tarot is able to retrieve it without disturbing the snake. But it's only now that his nemeses have done the hard work that Mr. Stabs shows up to claim victory…and in that moments, it looks as though Tarot might switch sides.
written by Trevor Preston
directed by Pamela Lonsdale
music by Andrew Bown

Cast: Michael Mackenzie (Tarot), Judy Loe (Lulli), Tony Selby (Sam), Donald Layne-Smith (Mr. Sweet), Russell Hunter (Mr. Stabs), Ian Trigger (Luko), Jonathan Cecil (Mr. Thwaites)

Notes: Along with the rest of the first and second seasons of the series, this episode of Ace Of Wands is missing due to ITV's policy of erasing and reusing then-expensive videotape in the 1970s. This synopsis is based on the original scripts (included as bonus features on Network DVD's box set release of the surviving third season) as well as very low-quality audio recordings of the episode in question.
LogBook entry by Earl Green