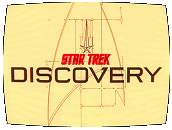 Stardate not given (3189): The destruction of Kwejian raises the gravitational disturbance to a crisis that the entire Federation must deal with. The former Vulcans and Romulans of Ni'Var pledge the full resources of their science institute, even though they are not Federation members, and Saru returns, still a captain, to serve as Burnham's first officer aboard Discovery. The source of the destructive gravitational waves is most likely the interactions between two black holes, and with that as the working theory, Discovery is sent out to investigate. But when Discovery arrives near the source of the gravity waves, what the crew observes directly doesn't quite match their models or simulations. Rather than putting Discovery in harm's way, Book offers to pilot his ship into the gravity well to gather data. But with Book's first-hand witnessing of Kwejian's destruction a very recent memory, Burnham is reluctant to send him. Book does fly his ship near the source of the gravitational waves, with a programmable matter tether keeping him connected to Discovery, and a holographic projection of Stamets riding shotgun to monitor the data collection. Even with Stamets trying to keep Book on task, however, Book's mind may not be on piloting…or, for that matter, surviving.
written by Anne Cofell Saunders & Glenise Mullins
directed by Olatunde Osunsanmi
music by Jeff Russo
additional music by Sam Lucas

Cast: Sonequa Martin-Green (Captain Michael Burnham), Doug Jones (Captain Saru), Anthony Rapp (Lt. Paul Stamets), Mary Wiseman (Lt. Sylvia Tilly), Wilson Cruz (Dr. Hugh Culber), Blu del Barrio (Ensign Adira), David Ajala (Cleveland "Book" Booker), Oded Fehr (Admiral Charles Vance), Ian Alexander (Gray Tal), Chelah Horsdal (President Laira Rillak), Tara Rosling (President T'Rina), Annabelle Wallis (Zora), Emily Coutts (Lt. Commander Keyla Detmer), Patrick Kwok-Choon (Lt. Commander Gen Rhys), Oyin Oladejo (Lt. Commander Joann Owosekun), Ronnie Rowe Jr. (Lt. Commander R.A. Bryce), Sara Mitich (Lt. Commander Nilsson), Luca Doulgeris (Leto), Linford Mark Robinson (Starfleet Captain #1), Katherine Trowell (Starfleet Captain #2), Fabio Tassone (Book's Ship Computer), and Grudge

Notes: This episode shares an identical title with an episode of Star Trek: Enterprise. Despite there being over 800 individual episodes of television Star Trek at the time of this episode's release, this is still an exceedingly rare incident (see also: The Emissary vs. Emissary). The discussion of the "Soong method" of creating a new synthetic body for Gray is a direct reference to the procedure that resurrected Picard in Star Trek: Picard (Et In Arcadia Ego, Part 2), though apparently that procedure is considered flawed and seldom used even 800 years later. Discovery's computer has picked the name – Zora – which was already heard in a Short Treks episode (Calypso).
LogBook entry by Earl Green