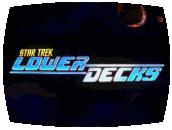 Stardate 57501.4: The Cerritos crew, particularly Commander Ransom, prepares to lay the groundwork for diplomatic relations with Gelrak V, whose people worship crystalline structures. As the all-important meeting draws near, Captain Freeman becomes aware that some junior officers are building "buffer time" into their estimates of how long it takes to accomplish certain tasks, and then goofing off when the tasks are finished quickly, leaving ample "buffer time". The Captain's next order eliminates buffer time, leaving an exhausted crew that's capable of mixing up which containers will be taken to the planet as a gift to the Gelrakians. The resulting mix-up causes grave insult to the Gelrakians, angering them enough to attempt to board the Cerritos – whose crew is too exhausted to put up much of a fight.
written by Dave Ihlenfeld & David Wright
directed by Bob Suarez
music by Chris Westlake

Cast: Tawny Newsome (Ensign Beckett Mariner), Jack Quaid (Ensign Brad Boimler), Noel Wells (Ensign D'Vana Tendi), Eugene Cordero (Ensign Rutherford), Dawnn Lewis (Captain Freeman), Jerry O'Connell (Commander Ransom), Fred Tatasciore (Lt. Shaxs), Gillian Vigman (Dr. T'Ana), Neil Casey (Crewman), Kevin Michael Richardson (Vindor / Gelrakian #2), Sam Richardson (Vendome), Jessica McKenna (Ensign Barnes / Cerritos Computer / Gelrakian #1), Michelle Wong (Admiral), Nolan North (Crewman), Paul Scheer (Lt. Commander Billups)

Notes: Baryon sweeps, once a task that required extended visits to specialized facilities (Starship Mine), can now apparently be performed in mid-flight by someone with as few qualifications as Ensign Brad Boimler. The distant future in which Chief O'Brien is revered as "perhaps the most important person in Starfleet history" appears peaceful and idyllic enough to be even later than the 32nd century in which the Discovery crew find themselves (That Hope Is You, Far From Home).
LogBook entry by Earl Green