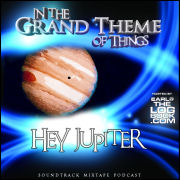 Bonus episode! To celebrate the imminent arrival of NASA's Juno space probe at Jupiter, here's a selection of Jovian-themed soundtracks:
By Jove, Juno's almost to Jupiter…and we've got some theme music ready. (1:03:56)
Right-click and "save as" to download manually
If you're wondering why we didn't play music from 2010 or Europa Report, it turns out they were both covered waaaaaay back in the very first episode!
Sayonara Jupiter is also available on DVD, though the real entertainment value lies not in ordering the DVD, but rather in reading the reviews of it.
Here is a much, much better movie:

More about the mission here.