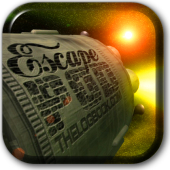 theLogBook.com's Escape Pod is a podcast released every weekday, usually running approximately two to two-and-a-half minutes (the weekend edition runs around five minutes), covering trivia in the areas of science fiction, real space exploration, video games, and more. Formatted as a "this day in history" radio segment, the Escape Pod is a fast-paced and frequently funny look back in time at the things that shaped the future that we now live in, from geek pop culture trends to scientific and technological advances. You can listen to the latest installments here, or listen to archived episodes here.
Researching, recoridng and producing the Escape Pod takes considerable time, so sponsorship opportunities are now being offered to offset the effort that goes into the podcast. Sponsorships are being offered at a fixed price of a dollar per day (!). This buys 30 seconds during which the copy of your choice can be read, or if you have a pre-produced spot that you can send, it will simply be incorporated into the Escape Pod in a mid-show "commercial break." At the present length of each day's podcast, there are two 30-second slots available per day.
Feel free to contact the webmaster at the address below to discuss sponsorship of theLogBook.com's Escape Pod; whether you're promoting another podcast or site, a book or an upcoming project, the Escape Pod is a great way to reach a new audience on a daily basis.