Around 1994/95, I was becoming very well acquainted with a graphics program called TARGA Tips+ at work. If I wasn't doing something work-related on it, I was probably doodling on it, and I was probably doodling stuff like this. Pretty primitive compared even to the background art on theLogBook.com, but at the time, I thought this stuff was the bomb.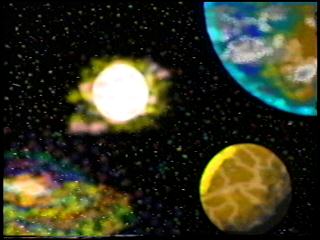 Rotated 90 degrees, this one later became the front page for one of the budget-busting full color issues of the Logbook fanzine in 1995; with some modifications, it also wound up as a full-screen legal ID on Fox 46. As unsophisticated as it seems now, this is one of my favorites.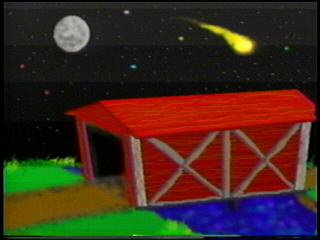 I seem to remember drawing this one, printing it out and framing it for my father and his wife, who had a thing for covered bridges. Read what you like into it, but it almost seems like the comet there's about to uncover the bridge…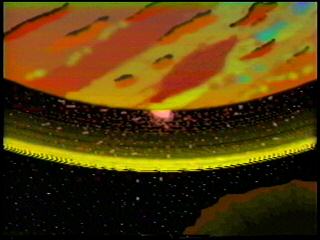 I think this was supposed Jupiter…and an asteroid of some kind…and…a ring. Of some kind. Memory's a bit hazy on what I was trying to do here.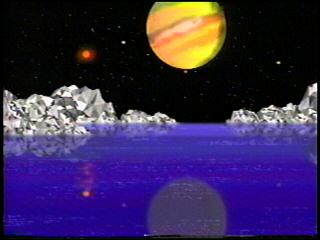 Best one of the bunch. I had begun messing around with a function of the program that would drop lots of polygons in fractal patterns depending on where you drew – it was a rather unique brush function, and it made some great jaggy mountains. Still some sort of Jupiter thing going on here, but this comes the closest to being realistic out of anything I did at the time.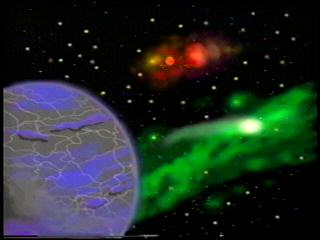 I like the binary star. Not sure about the cracked planet – it wound up looking like a jigsaw puzzle planet.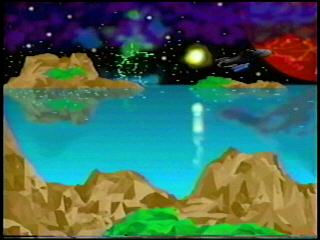 More jagged mountains, weird green lightning in the background, and a frame grab of the starship Voyager. Still love those jagged mountains though.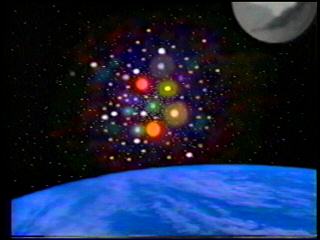 This is an actual frame grab of the Earth (which I think I randomly grabbed from a satellite dish in the control room which, if I had no actual show feeds to catch, was usually tuned to NASA Select) with a kind of globular cluster thing going on.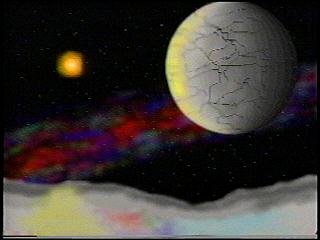 Another jigsaw puzzle planet. Meh.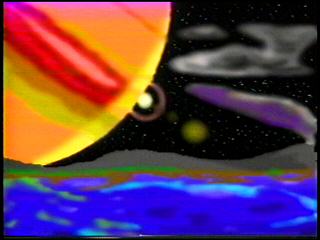 Jupiter, thunderhead clouds, and a steaming volcano, and not a half-bad attempt at hand-drawing a lens flare from the sun. Hmmmmm.
I wasn't about to put Adolf Schaller or Don Dixon out of work – I'm still not, come to think of it – but it was a bit of fun, and I remember being inordinately proud of these things way back when.