The whole schedule can be seen here, and it's full of events that are smothered in awesomesauce and seasoned with a liberal sprinkling of amazeballs. For those curious, I thought I'd "zoom in" briefly on my marathon triple-threat panel-o-rama on Saturday night. 😆
So it's like this: I'm going to be speaking for three hours straight. 😯 Here's what I'll be blithering and blathering about…
6pm, panel room 2 – Doctor Who in the Off Season. Early on in outlining this one, I took a right turn (I know, I know, turn left…) and decided to open the panel with a startling and rather challenging question for the crowd. As it turns out, recent developments in UK broadcasting with regards to the BBC have made the question less of an "if" but more of a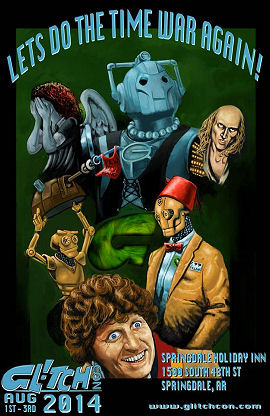 "when". I'll go ahead and drop a spoiler on you: the question is "What will you do the next time Doctor Who is cancelled?" I was already a fan the first time around (well, technically the first and second times around, if you count 1986) and will share some of the ways fandom took the reins and brought the TARDIS back from the dead.
7pm, panel room 2 – The Dawn of Video Games. This panel has been a huge hit for the past couple of years at various shows! The video game industry didn't start with Atari, as much as certain folks formerly associated with Atari would like you to believe it did. It started with an unlikely machine that barely had the circuitry guts to play black & white TV tennis. I'm going to bring it with me, set it up, and let you play it while I discuss some of the weird decisions, cul-de-sac developments that didn't work, and just plain accidents that have gotten us from big bloopy pixels to photorealistic big-screen epics within my lifetime. I'll have some interesting relics to show you, and some interesting stories to tell.
8pm, panel room 2 – Beyond the TARDIS. UK science fiction doesn't begin and end with Doctor Who. I'll go through an overview of some of British TV's best sci-fi, from Quatermass to Blake's 7 to Red Dwarf to Primeval and beyond. Some of this stuff needs to be remade with modern filming techniques; other specimens need to be shot into the heart of the sun, stat. Consider this panel a "recommended viewing" list with a side dish of cautionary tales!
While I will be doing panels there, I will not have a table at GlitchCon this year. The primary consideration wasn't cost, but rather that my wife's going to be seven months pregnant at the time of the show. I can't be tied down to a table for the whole weekend; I need to be home waiting on her hand and foot. (I probably shouldn't say how close I came to not doing conventions at all this year for that reason.)
But I do have books out this year – one just released in its second edition, and one which I'm proofing right now – as well as the very last dozen-or-so DVD copies of Phosphor Dot Fossils (which I'm allowing to gracefully slide out-of-print this year; you can still get the content, minus the disc)… so I'm pounding the pavement to boost awareness of these at least a few times this year (the con schedule currently appears near the top of my blog, complete with links to the official sites of the events). I'll have a few copies of my books with me if you want to buy one between panels.
A word of advice: if you want to make sure, really sure, you get a signed book, feel absolutely free to order it online prior to the show (I recommend at least a week before) and bring it with you. These convention stops represent a kind of no-budget book tour for me this year, so I'll probably only be able to have a handful of copies of each book with me. Second, your orders are quite literally paying for the gas that gets me to these shows. 😆 As laughable as it all sounds, I'll just remind you: baby on the way.
I love going to these shows, simply because this stuff didn't exist in this part of the country when I was growing up (and when I would loved to have had some kind of reassurance that other people were interested in this stuff and I wasn't hopelessly weird – well, not for that reason anyway). I love meeting my (potential?) audience head-on, and talking about and sharing stuff I know and love inside-out.
And if only for those reasons, I look forward to seeing you there. There's a lot of other awesome stuff taking place over the whole weekend, such as my friends at D20: The Musical doing a reading and Star Trek Continues star Vic Mignogna showing episodes and answering questions all weekend. GlitchCon is going to rock this year (as always, in my experience). See you there!