Being in two places at once is pretty hard, yo.
On the same day that I got confirmation that I'll be at least one panel presentation during the weekend of August 2nd at GlitchCon in Springdale, Arkansas – not quite an hour north of me – I received an invitation to be in Fairfield, Iowa the same weekend for the public unveiling of the next round of Twin Galaxies trading cards, commemorating events, milestones, and personalities from the world of video games… because, while I was totally happy to get a mention on the card for Classic Gamer Magazine, apparently I now get my own.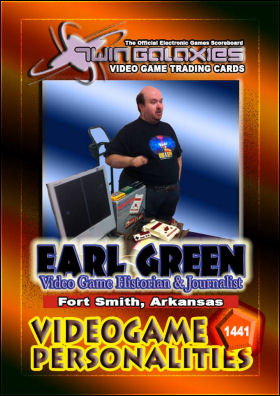 (This is an early draft; the fridge dolly belonging to my friend Carl from SciFiFX.com has been edited out – sorry, Carl's fridge dolly. Photo was taken by Brett Weiss at Konsplosion 2013 in Fort Smith.)
Decisions, decisions. I owe Walter Day a huge thank you for giving me my own card (believe it or not, I really wasn't campaigning for it). To put things in perspective: other new cards being unveiled at the Fairfield exhibit include the Magnavox Odyssey, Electronic Games Magazine founders Arnie Katz, Joyce Worley and Bill Kunkel, and countless world-record high-score holders. With folks like those in the mix… wow, who let the little fat freelance writer guy in the room?
In the end, though for reasons both budgetary and mere-months-away-from-having-another-baby-tary, I'm going to stick closer to home that weekend, at northwest Arkansas' own GlitchCon. (I had already committed to GlitchCon ages before the card happened, so that plays into it as well.)
In other being-in-two-places-at-once news, a new show has been added to my convention schedule (which should be showing up at the top of the blog no matter what you're looking at) that demands a bit of explanation. The Doctor Who Tulsa Mini Con will be held at the IDL Ballroom in Tulsa on September 13th, starting at 2pm, with a party called the Dance of the Daleks taking place that night. I'll have a table at the Mini Con with my books on hand, and as a result I've had to request that Konsplosion move all of my panel activity to Sunday. I'll also have a few books with me there (whatever's left over from Tulsa the night before), and might be warming a seat at the River Valley Time Lords booth when I'm not doing presentations.
How can I be in two places at once? Not easily, and not cheaply, but I will be there, and I'll see you there too. Click on any of the conventions listed to go to their web sites.
EDIT: There's one other event, as yet not scheduled, which will be in northwest Arkansas; this is dependent on other factors not under my control. Might happen this month (July), might happen at some point between some of the other events. I'll have more to say about the when and where… when the metaphorical ducks start to line up in a row for it; this one will be really, really cool. He said vaguely. Keep your eye on that schedule.