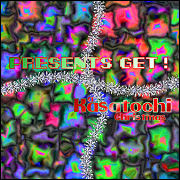 What, you thought Kasatochi was done? Naaaaaaah! I wasn't originally planning to do a Kasatochi Christmas album, but after the recent computer-death-and-rebuild, I wanted to make sure I'd installed all of my audio and music software to my satisfaction, so I cranked out a longer-than-I-originally-envisioned (that's what she said!) collection of chip-tune-ified Christmas favorites for your free downloading pleasure – a little present, you might say.
The playlist is heavily influenced by my time in radio; the oldies station where I started my career had, hands-down, the best Christmas playlist I've ever heard. I didn't tire of it as quickly as I do most holiday radio rotations.
Enjoy! Get it here at the new so-ugly-it's-beautiful retro-style Kasatochi page.