Glitchcon has come and gone again, and for the second year running, I gotta say, man, is this ever a neat little show. Except that there's nothing little about it. This year's show moved to the Springdale Holiday Inn, which is a really nifty space – the artists' area (where I had a table for theLogBook.com) was in the atrium, and there were several panel rooms, gaming rooms and a video room. It was a really classy space to be occupying. I'm totally cool if they want to stay with this venue for a while.
The first order of business, of course, was to haul in my somewhat modest setup and… well… set it up.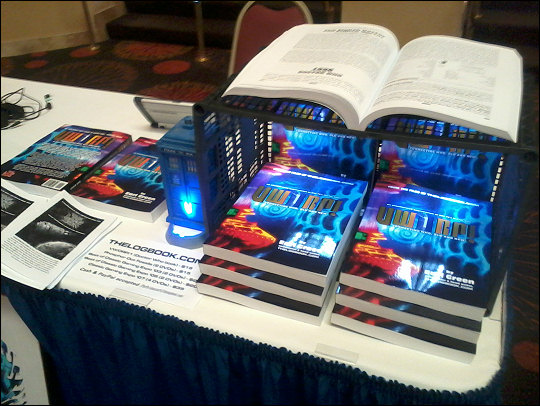 Both Phosphor Dot Fossils and VWORP!1 were represented; this was the first time in several years that I'd burned a whole new batch of PDF DVDs, as I had overproduced them in the past and, finally, having run out of the DVDs that had been going back and forth to OVGE with me, had taken to doing burn-on-demand instead. I also had 100 copies of a foldover booklet-style flyer printed up, serving as an introduction to theLogBook.com, the various video and book projects that have come out and/or are coming up, explaining the Escape Pod podcast, and so on; those were free to take, and 74 out of 100 went home with various and sundry attendees.
One thing I learned last year was to never count on having power or abundant light at one's table. Earlier this year, I invested in a handful of portable LED light gadgets specifically for convention time. Go figure, with the storm season we had, those lights got a lot of use around the house during power outages. They're incredibly bright and incredibly portable. I also had a little battery-operated lighted base for the TARDIS model, just to get everyone's attention. Tablets showing DVD segments were also operating independently. My reliance on battery operated things would save my butt during my panel on Sunday.
Anyway, business was pretty good at my table this year – and by "pretty good" I mean "I broke even on my trip expenses each day". (Nothing bites worse, from a vendor perspective, than being there and having to write off the whole trip as a loss; at that point, you might as well have bought a weekend membership and been free to enjoy the whole con rather than flying a table the whole time.) And even though I manned my table for the entire show, there were sights to see…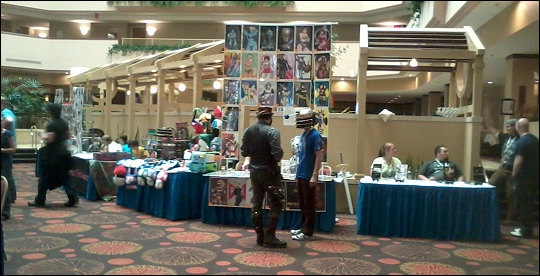 Yes, that man has a Dalek on his head.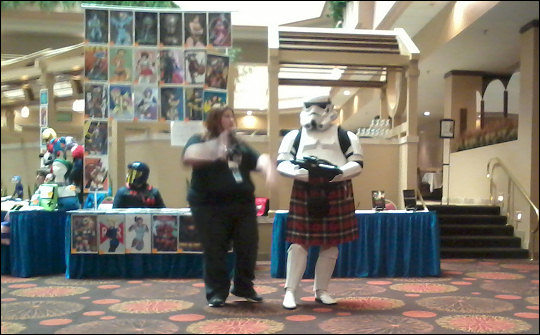 Yes, that stormtrooper is wearing a kilt.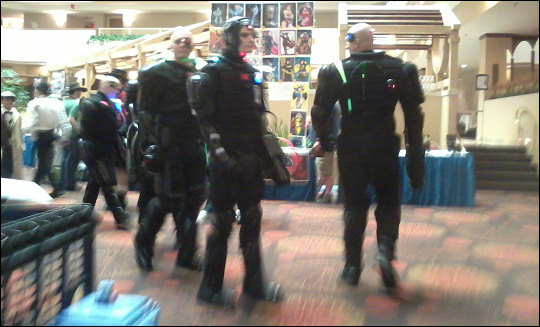 Yes, the Borg are coming to assimilate me… um… gotta go. BEAM ME OUTTA HERE!
Working a three-day convention works like this: show up Friday and put on your best dog-and-pony show, because the best you can really shoot for is to show attendees why they need to bring more money with them on Saturday. Saturday, dress to the nines (or higher numbers if available), because you're on. Sunday, wear whatever, because after the Saturday night parties, everyone is a freakin' zombie on Sunday and you're reduced to "Eeeeeeeehhh, wanna buy my book?" like Bobcat Goldthwait after a bender worthy of heroic song. Do the dog-and-pony show for everyone. Don't assume that someone's outward costume speaks to the entirety of their fandom. Who the hell's interested in just one thing?
This was the first Glitchcon for which I volunteered to host a panel – in this case, an overview of early video game history. The idea was that I'd bring in relics from my collection and set them up to be played. The reality of it was that I had about 45 minutes to do it, so I asked the guys running the vendors' room if it was kosher for me to bring the games back out to my table and let folks play/ogle them out there. Since it was close enough to the end of the show, this was deemed acceptable.
Not that it was easy getting to that point. I spent the entirety of Sunday morning, sitting at my table, double checking sources and notes, and tweaking my outline covering five business decisions from the '70s and early '80s that still hold sway over the industry today.
To illustrate the points to be made in the outline, I get the magnificent Magnavox Odyssey out of the closet in all of its dusty glory, an LCD screen with RF and baseband A/V inputs, the equally dusty Famicom (for display rather than play), a Fairchild Channel F cartridge (didn't want to haul the whole machine around), and my collection of Coleco mini-arcades, all with batteries in them. Remember that bit about batteries? That thing about bringing plenty of stuff that can operate on batteries is about to come in for a landing.
The precise point at which it comes in for a landing is the point at which I realize that my Odyssey AC adapter is in another box somewhere. A box I didn't bring. So I have no way to plug it in.
Oops.
I was mentally preparing profuse apologies about not being able to show the thing working, when I remembered: the Odyssey also runs on C batteries. What else did I have with me that I hadn't set up yet? Half a dozen little mini-arcade games full of C batteries. Donkey Kong and Frogger gave of their battery life that the Odyssey might live!
And live it did, except that the giant 300-to-75 ohm transformer to which the Odyssey's switchbox was attached was too big to conenct to the RF port on the monitor. I had another one with me… but did I have a screwdriver?
Yes. Yes I did. I had my sonic screwdriver on me, full of real functional screwdriver bits. So before the eyes of the slowly growing crowd in the room, I proceeded to fix the Odyssey with a sonic screwdriver while I started my introduction. One connected to the monitor, and with the monitor tuned to the right VHF channel, the familiar lo-res playing field appeared. "IT LIVES!" I exclaimed (and actually got applause for that).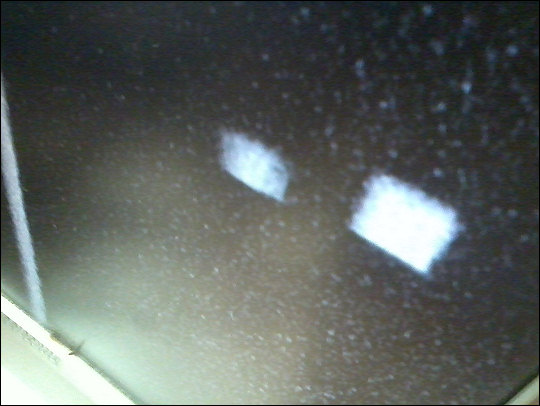 It's alive! ALIVE!!!!
The rest of the panel proceeded along the same lines: utterly unpredictable. At one point, obnoxiously loud bass-heavy music pounded through the wall between the panel room and the video room. I mock-shouted "DROP THE BASS!" at the wall – not loud enough to actually be heard – and lo and behold, THE MUSIC STOPPED. 😆
Going into this endeavour, I had always intended to be the Bill Nye of video game history. Instead, between sheer fatigue, sheer nervousness, and a little bit of adrenaline from all of the technical problems that had attacked me in rapid succession at the top of the panel… I think I was more like Robin Williams wearing Bill Nye's bow tie and hoping no one would notice. (And not even Williams on a good day – perhaps Williams following a bender worthy of heroic song.) It was dangerously close to amateur-hour comedy in places: at the end of the panel, I was asked would would be found when the Alamagordo landfill was excavated. (My response: "ET, grey and dead, still laying in that damn pit, looking up and saying OOOOOUUUUUCHHH!")
In short, folks who came to see my panel were well-informed, and remarkably tolerant of a fat sweaty guy who had to fix his gear on the spot. With a sonic screwdriver. 😆 (If any video of this exists, please deposit it at the Alamagordo landfill, c/o E.T.!)
Seriously though, amateur hour video game history improv stand-up comedy aside, the panel was a blast, and the scary thing is this: having spent all morning tweaking my outline… I didn't refer to it once. After I moved the games to my table to plug them in again so folks could clear the room for the next panel and come play, I looked at the outline and realized that I'd hit virtually every point on it, Rob Fulop's free frozen turkey and all.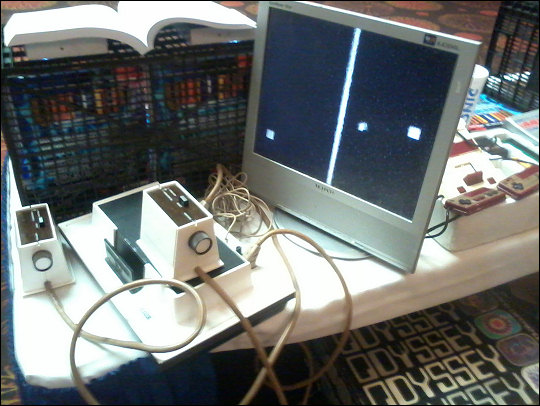 I've gotcher tabletop gaming right here
From there on out… for me, at least, after the somewhat terrifying peak experience was over, it was the long, slow death march to stay awake until time to tear down and drive home.
Lest you dismiss this as a bunch of folks in costumes rolling D20s and being awesome on their own merits, I'd also point out that Glitchcon's support of the Northwest Arkansas Women's Shelter inspired AR State Senator John Woods to donate a whopping $10,000 to the cause. Not a bad weekend at all.
Next month: OVGE and Konsplosion… IN THE SAME WEEKEND. Smart money says invest in caffiene futures now.