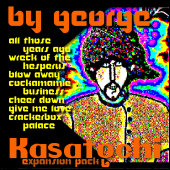 Another Kasatochi Expansion Pack is done; this one's been in the works for quite some time, and you can thank a sleepless tornado-warning-filled night for the fact that it finally got finished.
01 – All Those Years Ago
02 – Wreck Of The Hesperus
03 – Blow Away
04 – Cockamamie Business
05 – Cheer Down
06 – Give Me Love (Give Me Peace On Earth)
07 – Crackerbox Palace
As with the previous Expansion Pack devoted to McCartney, this EP focuses entirely on my favorite Beatle's storied post-Beatle career, though I admit to being sorely tempted to stick "While My Guitar Gently Weeps" on here. Maybe another time. For now I'm gonna go gently sleep.
You can go grab it from the dedicated Kasatochi page. There will be another release over the weekend, and another "cover album" – covering a particular entire album from beginning to end – next week. I'm sure everyone'll be in a rush to get it. 😛