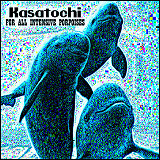 Got a whole album-length thing for you this time around – what can I say, I was on a real Kasatochi tear a few weeks ago when I put this one together. There's no real theme or specificity to it, though in listening back to it, I'm finding that there's a large – one might almost say fishy – number of instances of "songs to which I was introduced by close friends or family members". There are songs on here that I specifically relate to my brother, or my dad, or my mom… and yeah, a few I found all on my own, too. So what does the musical upbringing of Earl sound like when converted into NES-style chiptunes?
01 – Shambala
02 – Chocolate Cake
03 – Sweet Sixteen
04 – What Is Love
05 – Secret Agent Man
06 – Stepping Out
07 – The Chain
08 – All Over The World
09 – Twilight Zone
10 – Rock The Casbah
11 – Mammagamma
12 – I'm Not In Love
13 – Ohio
14 – Smoke On The Water
15 – Spirits In The Material World
16 – Baker Street
17 – Learning To Fly
18 – Learning To Fly
19 – Istanbul (Not Constantinople)
20 – Just What I Needed
21 – Last Date
As always, go forth and grab it from ye dedicated Kasatochi page.