For better or worse, my son has grown up in a microcosm, a bit of a fantasy-land already created by his daddy long before he came along, in which video games have related toys and memorabilia that go with them. He got hooked on Mario, and boom, instant Mario figure collection (which has kept growing, incidentally – I suppose I started him young in this department)). He got hooked on Sonic, and boom, Sonic and Tails and friends arrive in plush form (he was more interested in plushies than in action figures). Pac-Man? No problem. There'a a pac for that. (Please don't tell him that there are toys coming out for Pac-Man and the Ghostly Adventures.) But Dig Dug? Not so easy. There's an insanely expensive plushie available directly from Namco ($30??!?), and as much as he'd like it… we're a little strapped for cash. So I challenged him to make his own. I would provide supplies for him.
Wanna see the prototype Pooka he came up with?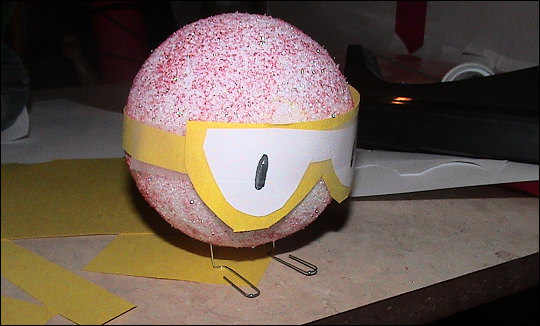 This pooka is a painted-with-markers styrofoam craft ball, with paper goggles and paper-clip feet and a paper-clip tail to stabilize him. He actually turned out really well.
I only helped with taping and paper-clipping. The rest was all our little resident pooka fan.
There may be room for improvement, but for right now, he really digs his new pooka. Total cost: $2.50.