I was in a car wreck over the weekend, which has knocked the wind out of my sails a bit. I was the only person in my car, and I walked away from it, so as sore as I am, I think I rolled a good saving throw against Getting Smooshed. The thing that sucks is that it was a pretty good weekend, marred by one big bone-jarring BOOM. But let's focus on the positive (yay), which brings me to my big purchase of the weekend…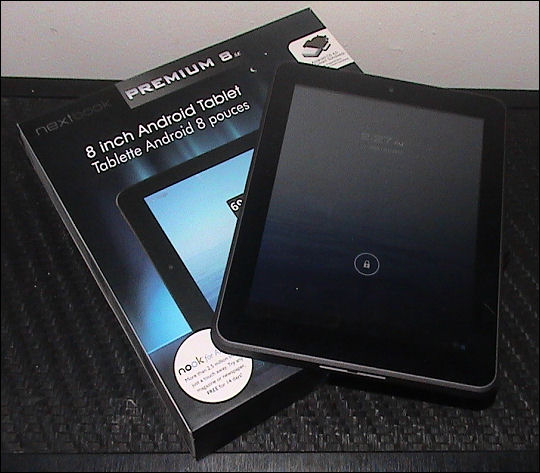 I happened to wind up with a wee bit of preciousssss in my pocketses this weekend, and I wasn't exactly looking to blow it (I'm really growing an allergy to blowing money on goofy crap, because in my position it's hard enough to come by in the first place). But we saw these tablets at Big Lots, knocked down to $89.99 after Christmas, and it pretty much matched up with what I had on me, so what the hell, why not? Both of my Sylvania tablets have developed… quirks. Quirks to the point of "barely useful." I got a lot of good mileage out of them. I'd still like to see them working again someday. Of course, I'd also like to have a titanium exoskeleton capable of cushioning me from impacts from, say, people driving right down the center line, but… anyway… the Sylvania tablets ceased to be of any use about a month ago, virtually simultaneously. And this was a Bad Thing. The tablets allowed me to watch stuff – oh, for the sake of argument, let's say stuff that I need to watch for the books I'm writing right now – while cooking, while on the can, wherever. (Glamorous, right?)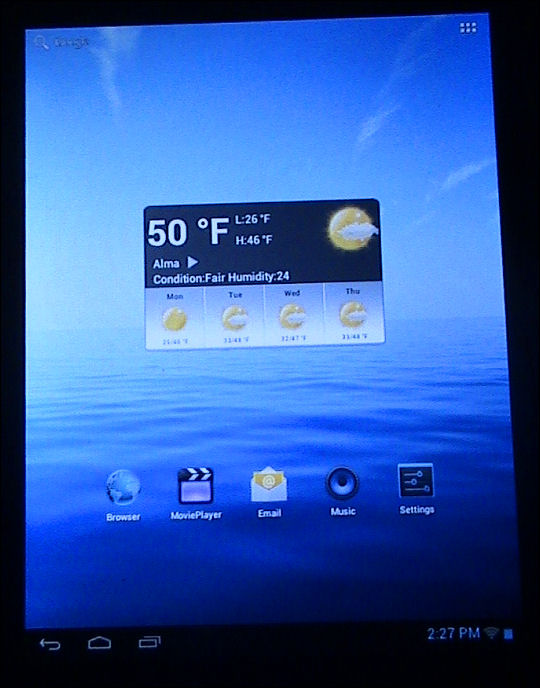 With an 8″ display, the form factor for the Nextbook tablet is more like an iPad or a Kindle. All tactile controls are on the edge of the device, along with a slot for an external SD card and the speakers. Everything else is the touchscreen – and this time, it's a device capable of multi-touch, unlike the resistive touchscreens of the Sylvania tablets.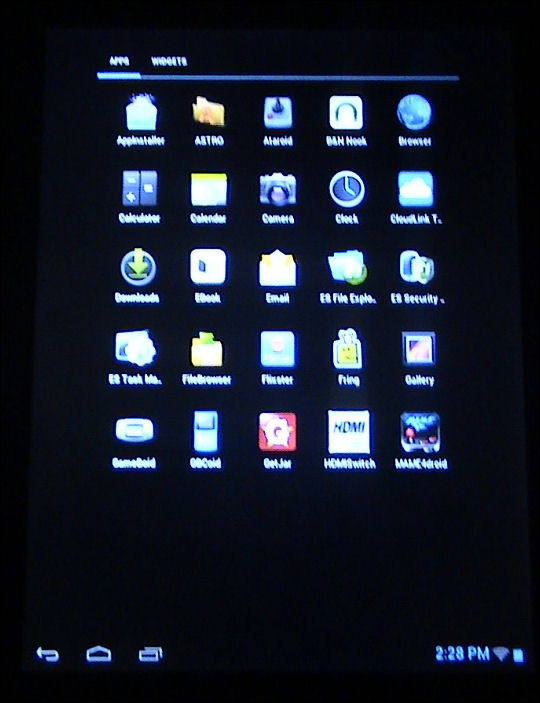 There are a heap of apps, including an App Installer that read the SD card that used to be in my Sylvania tablet, found the APK installer files, and installed the ones I wanted installed – whoosh! Suddenly it can do everything the old box did…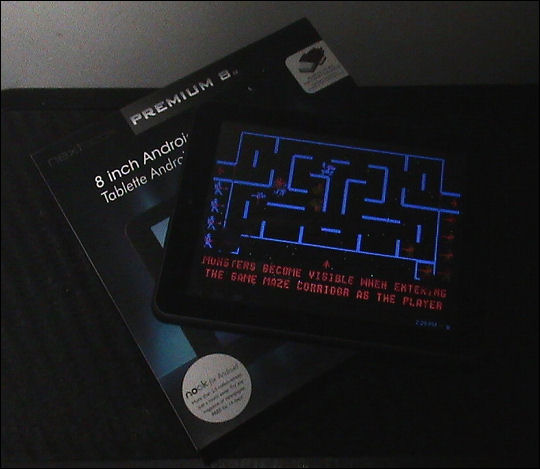 …and more. MAME4droid runs like a champ on this thing, and I no longer have to pick games where moving and shooting at the same time aren't necessary. Some games still aren't doable on a touchscreen control scheme (Star Wars: The Arcade Game and Sinistar, I'm lookin' at you), but hey, that's okay.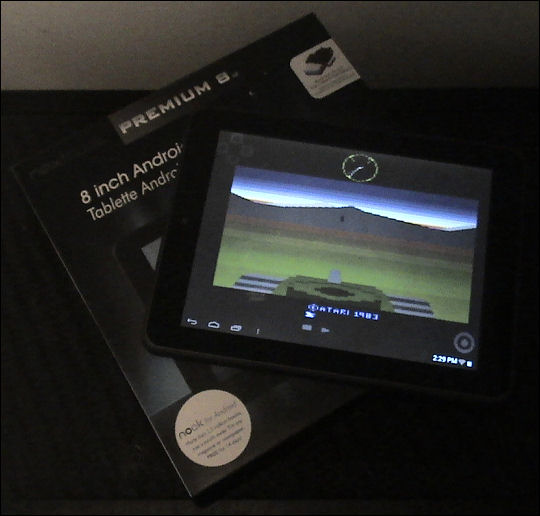 Atari 2600 emulation = flawless victory. On the Sylvania tablets, I had to disable sound to get the visual component of a game to run at anything resembling its full frame rate; the relatively large memory overhead on the Nextbook means that's not necessary.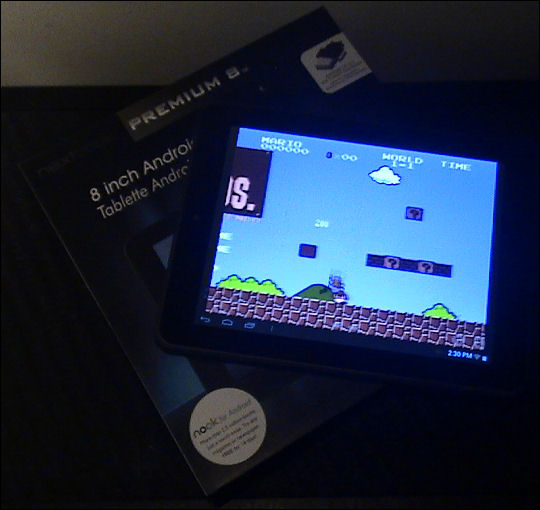 NES emulation is smooth as glass – again, no need to shut off the sound. Unless you just want to stomp on goombas in silence.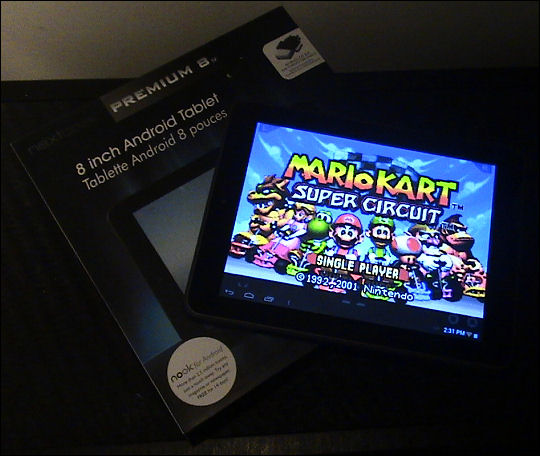 Game Boy and GBA emulation are also dead-on with no issues.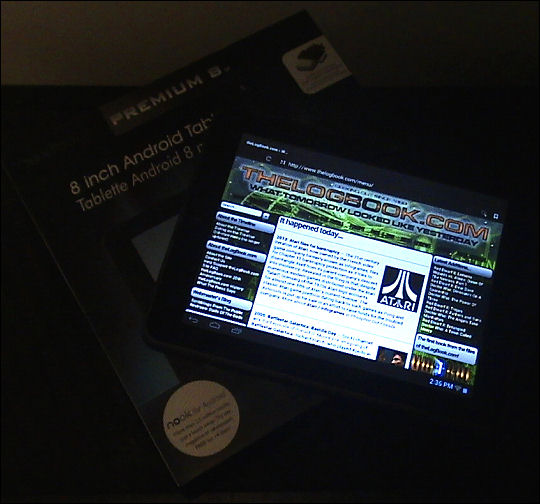 That memory overhead comes into play elsewhere too – the Nextbook's web browser permits tabbed browsing and Windows-like multitasking between several running apps. (If someone had even suggested such a thing with the tablet I had before, I probably would've laughed out loud.)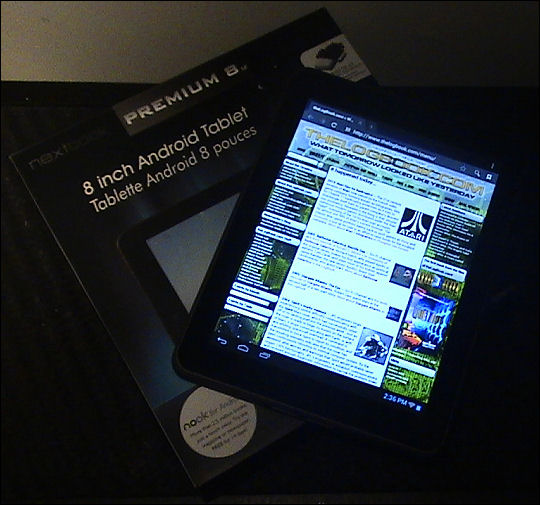 The display is crisp and readable in either orientation. The Nextbook also has a camera built in, which can record either pictures or video – again, an almost unthinkable step up from my previous tablet.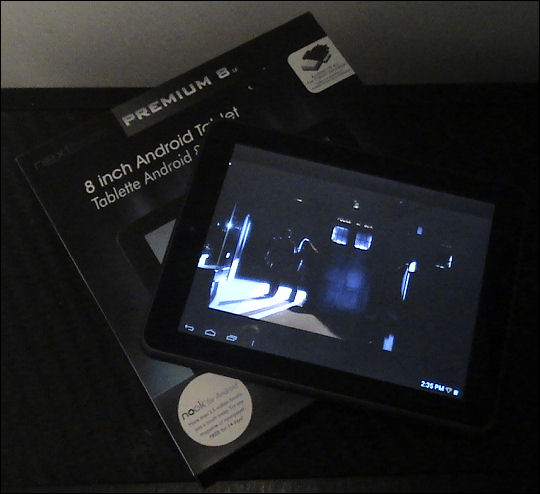 Video is gorgeous on the Nextbook, though the real litmus test was streaming video. It handles Youtube like a champ, but what about streaming stuff from my media server at home? The Sylvania tablet, over time, was revealed to be very hit-and-miss at this ability.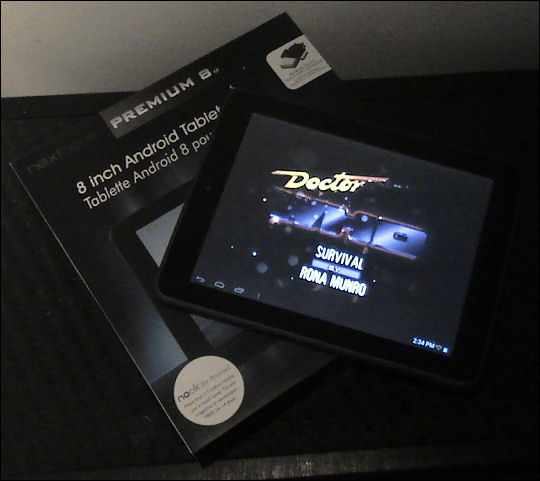 The Nextbook, as it turns out, is really quite amazingly good at it. There's a "stutter" about 15 seconds into streaming, at which point it backs up, starts over, and then plays smoothly. Due to the aspect ratio of the screen, widescreen video has a pretty generous "letterbox" of dead space leftover, while 4:3 video is slightly letterboxed and pillarboxed to allow for the player controls at the bottom of the screen. (I'm using the eStrong Android suite to find and stream files from my media server PC, by the way.)
Connecting the Nextbook to my PC is also a breeze – it shows up as two separate devices: one is the microSD card which formerly resided in my Sylvania tablet, the other is the tablet's own 4gb of internal writeable memory (the manual is very upfront in pointing out that only about 2.5 gigs of that is available to the user; the rest is taken up by the Android OS and pre-installed apps).
The apps already installed include a Barnes & Noble Nook reader; grab the Kindle app from Amazon and you've got the best of all possible worlds in e-reader-land.
Big Lots has had these Nextbook tablets on sale for an advertised price of about $90 recently, and the stores are running out of them fast. Amazon has them as well, but not for that price. But the massive improvements in performance and features over my previous (and yet still sorely missed) 7″ tablets are definitely worth at least $90.