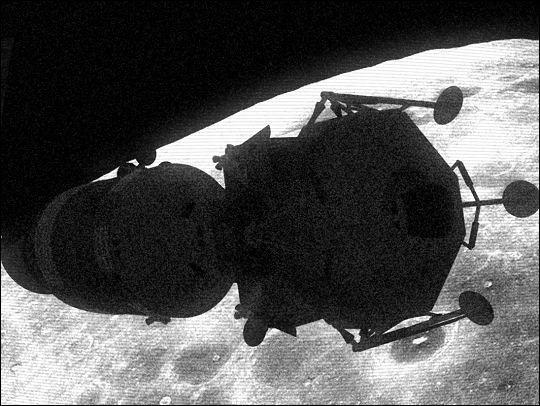 Tomorrow, 43 years will have passed since humans first walked on the moon. This December, 40 years will have passed since we last went there.
Too bad we don't go for these little drives anymore.
The idea behind this image was: what if, for propaganda/PR/hammering-it-home purposes, one of the Apollo flights had included a subsatellite whose sole purpose was to provide external TV coverage of the flight? The results probably wouldn't have been Hollywood, but they would've been memorable, hence the addition of static, scan lines and a bit of a "whiteout" effect from the moon in the background. (That being said, the image is probably still "too clean.")
By the way, we could probably totally do the "cameraman subsatellite" thing today, at least on a short-range basis (you probably wouldn't be able to drop jost one of them and have it follow the vehicle for the entire trip). We have, as they say on teevee, the technology.
(Lunar photo: NASA / 3D Studio Max & Paint Shop Pro dabbling: me)