My garage-sale-hopping this weekend didn't produce any games, but I did spend all of $13 on some decent shelves and some baby clothes. Shelves are a good thing: basically, everything of mine that's in the little bedroom has got to come out of there to make way for baby. That means tons of books, more than a few knick-knacks, boxes full of stuff that's just been stored in there…and quite a bit of it will probably get tossed out, or set aside for a yard sale of our own that I hope we'll have the time and energy to hold between now and baby time. So I've got my eyes open for storage solutions for the stuff I don't want to toss.
These two shelves aren't a bad start.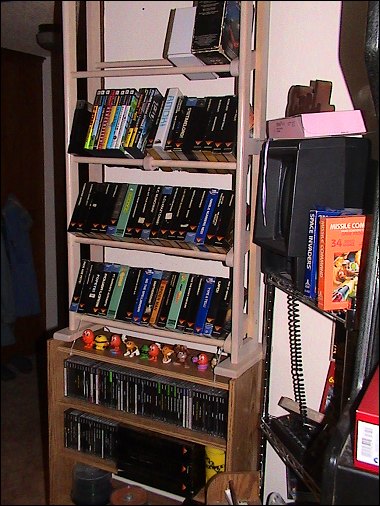 Up until now, there had been a wooden shoe rack next to the door of the game room, which held quite a quantity of books. The Odyssey2 boxed games had been on a much flimsier plastic-and-metal shoe rack in the game room closet; they were about all it could hold.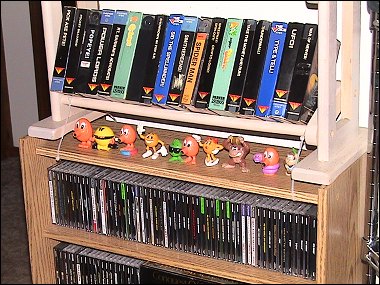 The plastic-and-metal rack has been removed from service – and apparently none too soon, as it fell apart in my hands while I was removing it! – and the old wood shoe rack (and the books) have gone into the closet. In its place next to the Vectrex, I've come up with this Frankenstein shelf consisting of a decent wooden CD storage shelf ($3) and another wooden shoe rack ($1). Playstation games are now in the CD shelf, along with numerous other odds and ends, and the Odyssey games are now out in the open. (This may seem like a strange switcheroo, but after I started putting books on this thing, I quickly realized it was a disaster waiting to happen. The O2 boxes are much lighter, and it's more realistic to expect a rack full of O2 boxes to stay in place (with help from some zippy ties) and not collapse the shelf underneath it with their sheer weight. (Obviously the little video game characters will be moving back to the "trophy case" in the not too distant future.)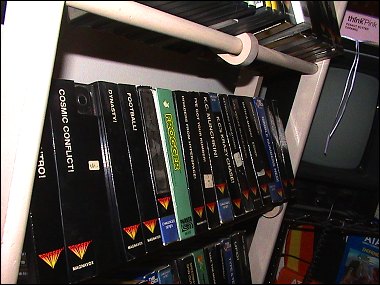 Nothing quite like a shelf full of video games for a system that's about to turn 30 years old.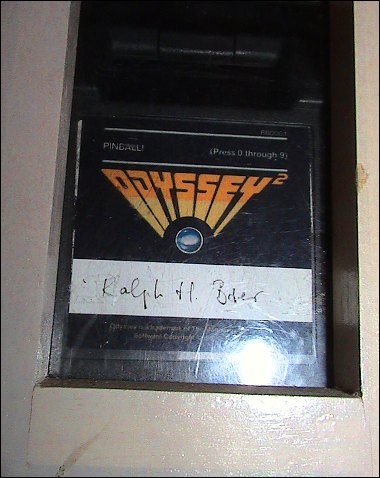 Except maybe one autographed by Ralph Baer. 😉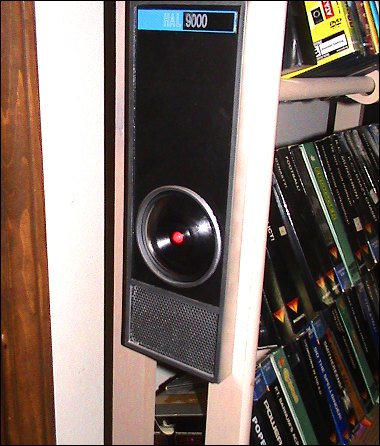 HAL is also perched on the side of the "one buck" shelf, keeping a watchful eye on anyone who comes in to play.