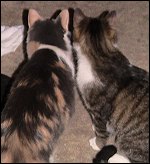 It's time for eight feet of adventure! Not meaning eight feet tall, mind you – just two little sets of four little fuzzy feet each getting into way more trouble than you'd really think them capable of. (Olivia just watched.) And just what kind of trouble did we find ourselves in? Tune in next time, true believers – same cat time, same cat station.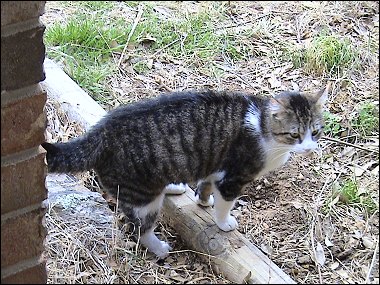 It all started with the opening of the front door. Oberon zipped right outside. And this time, trouble – well, okay, trouble is only Othello's middle name – followed.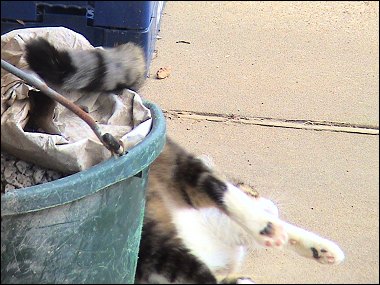 Trouble will only follow you so far, though. For example, trouble doesn't follow in your footsteps when you do an ass-over-teakettles flop while trying to rub on a bucket full of gravel.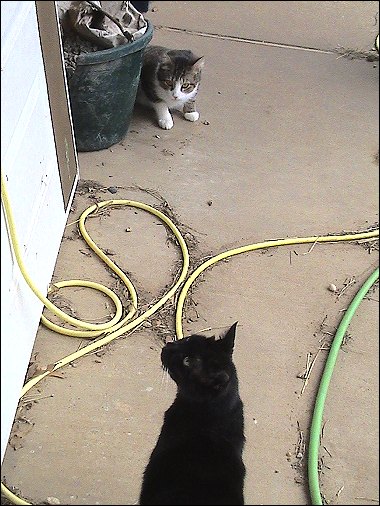 Oberon quickly tries to regain his dignity since he has a witness.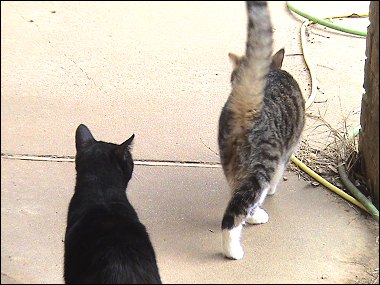 Boys will be boys, and boys will go zooming right off the edge of the patio and toward the pasture, despite numerous admonitions that said pasture is full of cat-eating monsters.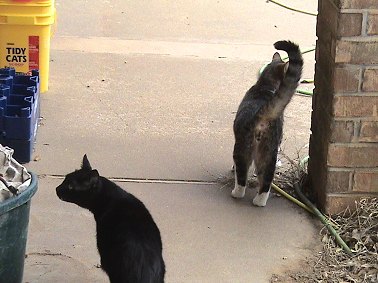 Monsters? Maybe we should stop and think about this.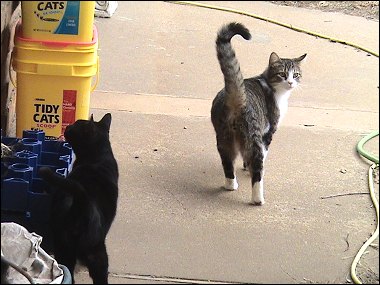 Uh-oh. It's that look that says "Hey, I'm about to do something unfathomably stupid."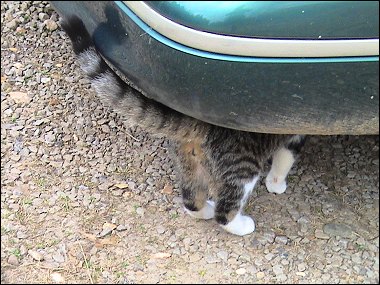 Fig. 1: Something unfathomably stupid. (I had to put the camera away and stop the little brainless furry wonder before he went and tried this with the moving cars on the road. He's not the brightest specimen of domestic cat, our Oberon…)
In non-cat-related news: I believe I may have a CGE distributor lined up for the PDF DVD. So it won't be a Tulsa-only phenomenon. Flack has kindly offered to do the honors at this year's OVGE, so whether you're in Tulsa or Vegas, even if I'm not there, my pre-packaged phosphor dots will be available for your viewing pleasure! Buy early, buy often. Baby needs a new…well…pair of everything. New baby, what d'you expect?
I'm hoping I might actually make it to one or both shows, but I'm making preparations now, just in case I can't do it, either for financial reasons or because it's just too close to baby time.
I got a very scary notice from my main PC tonight: LOW ON DISK SPACE. Holy crap, where did my 400 gigs go? I've already been wanting one of those 400 gig Western Digital MyBook USB drives, because I'll tell you where a big chunk of that space is taken up: my vast MP3 directory. If I could have a standalone drive, accessible by Zen and Orac, just for media, that would solve a big part of the problem. Coming up with the cash for one of those gadgets, however…well…I'll have to get back to you on that. 😯