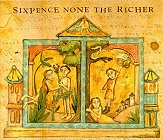 Yep, it's the "Kiss Me" band. Thanks to heavy MTV rotation of a song which was played on Dawson's Creek, Sixpence None The Richer's 1997 album suddenly wound up being a hot commodity – which is a good thing, since their self-titled CD didn't deserve the trip into obscurity that it initially took.
The real commodity that keeps Sixpence afloat is guitarist/cellist Matt Slocum's accessible songwriting. Though the songs on this CD frequently have complex and interesting arrangements, they're never so thick with instrumentation that you can't get to the heart of the song. Lead singer Leigh Nash has an appealing voice, always sounding very young – and in some cases, that's a good thing. "Kiss Me", though it has now gone from obscurity to having spent a year being overexposed on radio and MTV, is a sweet, innocent song, and just wouldn't have worked without Nash's youthful vocal style.
Oft-overlooked album tracks include "We Have Forgotten" and my personal favorite, "Sister, Mother". And speaking of well-worn radio staples, "There She Goes" is included on this CD, though in most early pressings it's an unlisted track. More recent pressings have added that song – which became the album's next big single – to the track list.
We Have Forgotten (5:07)
Anything (4:50)
The Waiting Room (5:15)
Kiss Me (3:30)
Easy To Ignore (3:53)
Peudo Escribir (3:46)
I Can't Catch You (4:12)
The Lines Of My Earth (4:26)
Sister, Mother (3:06)
I Won't Stay Long (2:15)
Love (3:56)
Moving On (3:56)
There She Goes (3:13)

Released by: Squint
Release date: 1997
Total running time: 50:53