I've been ambivalent about the new film version of C.S. Lewis' classic tale on many levels; for one, despite enjoying some of the past attempts that have been, to put it charitably, steeped in cheese, I'm just not sure this is something that can be accurately committed to the big screen. (Oddly enough, I have the same feeling about Dune – I've enjoyed various attempts to put it on film, but I've also been more than ready to say "okay, enough" at the next attempt.) This big-budget, big-screen, CGI-filled, Disney-backed version looks like it may actually convey the story satisfyingly. And if the soundtrack, released before the movie's opening, is any indication, we may actually luck out this time.
Harry Gregson-Williams' score, the main component of the soundtrack release, is gorgeous stuff. From its opening cue, The Blitz, 1940, it's clear that much of the music will be in a traditional leitmotif mode, but Gregson-Williams still finds plenty of room for originality within that context. "The Blitz, 1940" cleverly uses rumbling, downward portamentos of brass to accompany the bombing of London, sounding almost like diving airplanes (who needs sound effects?). Things get decidedly more modern with "Evacuating London", which almost sounds like it's taking a few Enya-inspired pointers from Titanic in places.
Things settle down a bit until we actually step through the wardrobe, at which point the music conveys a great sense of the fantastic and the epic. There are numerous cues which – at least judging by their track titles – are lush, flowing travelogues, making for a very relaxing listen without quite fading into the blandness of background music. Having completely missed a few guesses in past "heard the music before I saw the movie" soundtrack reviews, I'm not even going to try to guess at how well the music fits the film, but it's great stuff; out of the entire score, I will admit to having kept "The Blitz, 1940" and "The Battle" on repeat play quite a bit.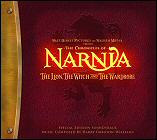 There are four songs included on the tail end of the CD; Alanis Morissette fans will enjoy her track, "Wunderkind", and I was stunned beyond belief to see Tim Finn turn in a new tune, "Winter Dream" (especially since I'm a fan of his work and hadn't heard a peep about his participation). (I don't know who worked the deal to get Tim on this soundtrack or how they did it, but hopefully he benefits from the exposure.) Imogen Heap contributes "Can't Take It In", while Lisbeth Scott, the vocalist who can be heard at several points in the score itself, gets a song to herself ("Where"). There's also a nicely packaged two-disc "special edition" release; the contents of the soundtrack CD are identical, but the package also includes a DVD with interviews with composer Gregson-Williams, concept art galleries and trailers from the movie, and a few other promotional pieces.
All in all, The Lion, The Witch And The Wardrobe gets a very nice orchestral score with some modern touches (though not overpoweringly modern). If you're looking for a good film score with a balance between action scenes and more contemplative cues, and something that's not John Williams (nothing against Mr. Williams, but 2005 at the theater has been jam-packed with his music – Revenge Of The Sith, War Of The Worlds, Munich, Memoirs Of A Geisha…), this will do nicely.
The Blitz, 1940 (2:32)
Evacuating London (3:38)
The Wardrobe (2:54)
Lucy Meets Mr. Tumnus (4:10)
A Narnia Lullaby (1:12)
The White Witch (5:30)
From Western Woods To Beaversham (3:34)
Father Christmas (3:20)
To Aslan's Camp (3:12)
Knighting Peter (3:48)
The Stone Table (8:06)
The Battle (7:08)
Only The Beginning Of The Adventure (5:32)
Can't Take It In performed by Imogen Heap (4:42)
Wunderkind performed by Alanis Morissette (5:19)
Winter Light performed by Tim Finn (4:13)
Where performed by Lisbeth Scott (1:54)

Released by: Walt Disney Records
Release date: 2005
Total running time: 70:44