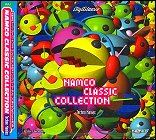 Here it is, possibly the weirdest tie-in album ever. You've seen music devoted to Muppets, Teletubbies, Power Rangers, Powerpuff Girls, and any number of other bizarre mascots. But what about a modern-day musical tribute to Pac-Man and his fellow retro-video game stars? That's the idea behind this limited edition Japanese CD licensed by the jolly joystick giants at Namco, one of the few game manufacturers to have weathered the various storms of the game industry, so naturally the album focuses on the characters of Namco's arcade game properties some two decades ago.
Naturally, your ability to get anything out of this album will rely very heavily upon your ability to handle house music, as well as how familiar you are with the sounds of various and sundry video games which are now, technically, old enough to drink.
The "Pac-Man Remix" is whimsical, funny, and loaded with audio samples from the game, but when one takes into account that everyone from Aphex Twin to D.J. Maui has already mined that territory adequately, I'm not sure this mix stands out. The track devoted to obscure sequel/upgrade kit New Rally-X is a little more low-key, with game samples not making their first appearance until nearly two minutes into the proceedings. This trend is carried further in the first track devoted to Galaga, my favorite game ever to emerge from Namco's stable, in which no samples or even musical themes from the game appear, resulting in some rather repetitive dance music with no audible ties to its inspiration. The guitar-driven Dig Dug tune bears somewhat more resemblance to the omnipresent tune that accompanies the game of the same name. The second Mappy mix brings actual samples of the game's sounds back to the fore, along with appropriately sped-up "mouse" voices counting off "1, 2, 3, 4!" at various intervals throughout the song – though the mind-bendingly staccato drum machine beat tries even my patience. The mix devoted to Xevious leans heavily on samples, and is actually one of the best tracks of the whole collection. The honors ultimately go to the "Pac-Man Remix" and the eight-minute "Galaga: Tiny Voice Production Remix" – which even quotes the musical greeting from Close Encounters Of The Third Kind along with various game sounds (!). Those two tracks are really the epitome of what I was expecting – no, scratch that, hoping for – with this CD.
So, to wrap it up, will anyone aside from me enjoy this CD? Well, it's entirely possible that I may be the only one. Even thought I walked into this one with an open mind, such tracks as the "Galaga: Feel Like Makin' Jazz" mix and the "Mappy: Latin Makes You Happy" Remix (both, incidentally, remixed by Akakage) suffer from a total disconnect from their titular inspiration, and made me want to hit the "skip track" button on my CD player. On the other hand, I was greatly relieved that Ryosuke Imai's Galaga remix, the best thing on here, was also the longest track on offer. But in some ways…the music from the various Namco Museum games for the Playstation is superior, sticking much more closely to the source material musically, if not necessarily using samples. (Why Namco didn't throw this in as a bonus, or perhaps as a proof-of-purchase premium, with its aforementioned retro game collections is a mystery to me. That's their target audience!) The packaging is eye-catching, and includes a sticker of the colorful cover art (dozens of CGI Pac-Men wearing headphones and eating musical notes).
This is one of those way-way-out-there entries in my vast library which, like Sharkbait's Blowtorch Facelift CD, will probably mean something different to everyone who hears it. I liked most of it, but it's not going to be everyday listening – the mood would definitely have to hit me to sit down and pour some of these tracks into my ears.
Mappy: Latin Makes You Happy Remix – remixed by Akakage (6:23)
Pac-Man Remix – remixed by Yoshihiro Sawasaki (4:27)
New Rally-X: Checkered Flag Mix – remixed by Yoshiaki Onishi (6:00)
Galaga: Feel Like Makin' Jazz Mix – remixed by Akakage (6:24)
Dig Dug: Pro Action Replay Remix – remixed by Takeo Sasada (3:05)
Mappy Remix – remixed by Yoshihiro Sawasaki (5:09)
Xevious: Maximum Power of Triple Z80 Remix – remixed by Seiya Nakano (4:38)
Galaga: Tiny Voice Production Remix – remixed by Ryosuke Imai (8:01)

Released by: Pony Canyon, Inc.
Release date: 1998
Total running time: 44:07