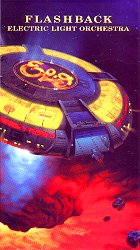 And to think, you thought ELO's story was over. A series of rare tracks, live cuts, concerts and rarities have kept the band alive for fans during the 90s – not to mention a little band called ELO Part Two, who have been paying Jeff Lynne's mortgage from publishing royalties alone for the past decade. But with the abrupt end of ELO Part Two, now operating under the somewhat generic name Orchestra, we should've known something was up. Jeff Lynne's been a busy boy, supervising the restoration and remastering of the original ELO session tapes and finishing incomplete recordings which originated anywhere from 1980 to '82. Alternate mixes of "Do Ya", "Mission (A World Record)" and "Mama" are included here, along with a murky 1973 home demo and a completely new version of "Xanadu", performed by Lynne in a style which seems to owe more to the Traveling Wilburys than to ELO.
There are many familiar and somewhat more obscure tracks in this box set, and the remastering that has been performed on that material is quite a revelation. For the first time, "Shangri-La" and "Livin' Thing" aren't pureèd by the noise reduction technology of the 70s – the latter in particular has had a very annoying overmodulation effect in the build-up to the last chorus since I first heard it, so it's nice to hear it the way it was originally performed for the first time.
New bits are heard here and there as well, such as an interesting synth instrumental right before "Hold On Tight", some Beatlesque echo-drenched count-ins, and so on.
The edits and alternate mixes of classic songs are interesting from a completist point of view; personally, unlike Jeff Lynne in his liner notes, I have never felt that 1972's "Mama" was an overly long number, and to say that I preferred the original mix of "Mission (A World Record)" as released in 1976 would be an understatement. This new mix is an interesting way to study the song's densely layered arrangements, as it lacks many of the backing vocals of the original, but that's all. And I can't tell if "Do Ya" is a grand rebirth for one of ELO's oldest songs (it was originally a Move number), a product of extensive computerized editing, or both.
The real gems, however, are the half-dozen or so outtakes and previously uncompleted songs from the early 1980s. "Grieg's Piano Concerto In A Minor" is just what it says it is, given a groovy Ventures-style surf-rock arrangement which has to be heard to be believed (!). "Tears In Your Life" is a somber reject from 1982's Secret Messages album, which Lynne completed with a new three-part harmony vocal (the original intent was for the entire song to be sung through a vocoder), and sports some elegant middle-eastern-influenced string work. Other leftovers from the Secret Messages sessions are the incredibly silly "Who's That?" (a Monty-Python-esque bit of messing around with fart sounds that was probably never intended to appear in any officially-released form) and "Helpless", which has some amazing vocal harmonies hearkening back to ELO's glory days.
But in my view, the real treat is "Love Changes All", a never-before-heard number from the 1980 sessions for ELO's half of the Xanadu soundtrack. Not only are the pre-requisite swirling string arrangements there, but so is a large choir and some of Lynne's best vocals (and lyrics). It's a shame the song was never finished until this year.
The box art is a fantastic revisitation of some of the concepts from 1977's Out Of The Blue cover art, which forever solidified the ELO/spaceship/science fiction connection that furthered the group's reputation as a cult-following-only band, right up there with most other well-loved science fiction icons. The booklet contained in the box is an almost fawning tribute to Lynne's genius. I love Jeff Lynne's songwriting and production style, but these things should not be stressed at the expense of such pivotal past members as Bev Bevan, Kelly Groucutt (who sued his ex-bandmates in the 1980s over whether he was a full member of the band entitled to royalties, or just a high-paid session musician who just happened to play on virtually every song the group recorded between 1975 and 1983), and co-founder Roy Wood.
With its steep price tag, I'm not sure that Flashback will spark the ELO renaissance that Epic is hoping for – and with the announcement of Zoom, a completely new ELO album created by Jeff Lynne for a 2001 release, I'm sure there was some hope that Flashback would generate some real interest. Die-hard ELO fans like myself are sure to pick it up for the new material, but will the general music-buying community catch on fire for this? Only time will tell.
Disc one
10538 Overture (5:31)
Showdown (4:12)
Ma-Ma-Ma Belle (3:54)
Mr. Radio (5:03)
Roll Over Beethoven (7:48)
Mama – new edit (6:05)
One Summer Dream (5:21)
Illusions In G Major (2:41)
Strange Magic (4:29)
Eldorado Overture (2:12)
Can't Get It Out Of My Head (4:24)
Eldorado (5:18)
Eldorado Finale (1:29)
Do Ya – alternative mix (4:09)
Mister Kingdom (5:08)
Grieg's Piano Concerto In A Minor (2:59)

Disc two
Tightrope (5:23)
Evil Woman (4:19)
Livin' Thing (3:34)
Mr. Blue Sky (5:07)
Mission (A World Record) – alternative mix (4:31)
Turn To Stone (3:48)
Telephone Line (4:45)
Rockaria! (3:15)
Starlight (4:45)
It's Over (3:55)
The Whale (5:06)
Sweet Talkin' Woman (3:49)
Big Wheels (5:32)
Shangri-La (5:36)
Nightrider (4:24)
Tears In Your Life (3:06)

Disc three
Don't Bring Me Down (4:04)
The Diary Of Horace Wimp (4:17)
Twilight (3:42)
Secret Messages (4:38)
Take Me On And On (4:58)
Shine A Little Love (4:11)
Rock And Roll Is King (3:15)
Last Train To London (4:31)
Confusion (3:40)
Getting To The Point (4:51)
Hold On Tight (3:08)
So Serious (2:43)
Calling America (3:27)
Four Little Diamonds (4:06)
Great Balls Of Fire – live, 1974 (3:06)
Xanadu – new version (3:21)
Indian Queen – demo (0:57)
Love Changes All (3:28)
After All (2:24)
Helpless (3:19)
Who's That? (1:26)

Released by: Epic/Legacy
Release date: 2000
Disc one total running time: 68:52
Disc two total running time: 71:01
Disc three total running time: 73:42