Phosphor Dot Fossils
Permanent Price Drop!
Based on theLogBook.com's award-winning online museum of classic arcade, computer and home video games, the Phosphor Dot Fossils Brown Box DVD collection is a six-hour crash course in the history of electronic entertainment.
See The Games In Action
Actual video clips of dozens of games in action, from 1971's "Computer Space" through the dawn of the NES era, accompanied by fascinating game-by-game historical notes. A detailed menu system lets you search year-by-year to jump directly to whichever game you want to see. It's a "video book" and a celebration of the sights and sounds of video gaming's history all in one.
Vintage Commercials
This will be the first time you've ever been happy to see advertisements on a DVD. Though some of these have been seen as part of previous commercial compilations on VHS, hundreds of hours have been spent on restoring the sound and video to the best quality possible to these gems of pure '80s bliss, many of which haven't been seen in over 25 years.
Rare Hardware, Iconic Controllers
From the Magnavox Odyssey's light gun to the Atari 2600 joystick to Intellivision's keypads to the Famicom D-pad controllers, see how keeping your fingers on the pulse of the game has evolved. Also glimpse rare hardware such as Adventurevision, Puppy Pong and the pre-2600 Atari console that never hit the stores, along with long-lost specimens of video game toys and memorabilia.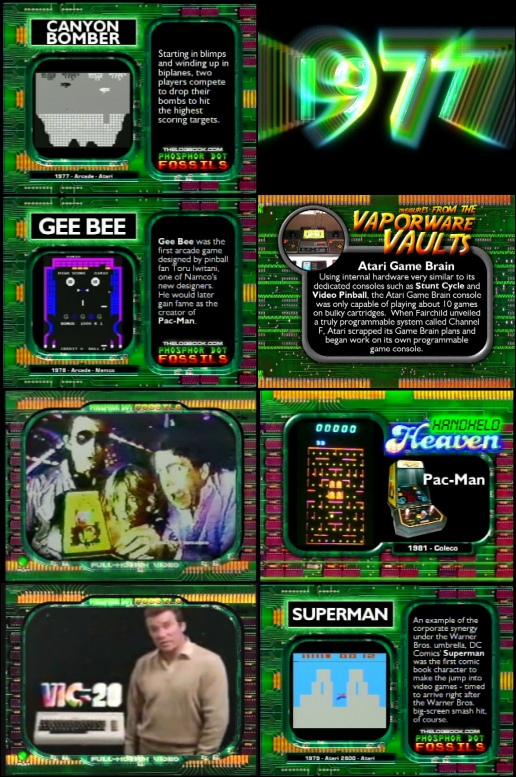 The Next Level
The second disc, Phosphor Dot Fossils Level 2, proves that there were pivotal moments in video game history going on outside of the "A" list games that everyone's familiar with. Which 1970s game originated the concept that Tron later called "light cycles"? What early Atari coin-op was the first video maze game? Which video game's TV advertising boldly proclaimed it to be "the most fun you'll ever have with your TV set"? The answers are all found on Phosphor Dot Fossils Level 2.
Not The Same Game
Phosphor Dot Fossils Level 2 is three hours of new content – there is no repeated material from the first Phosphor Dot Fossils DVD. There are new features too – Retro Makeovers show you side-by-side comparisons of classic games and their modern-day reinventions, putting the truly astonishing pace of technological advancement on display. Truth In Advertising Moments put classic games under a different kind of spotlight, comparing the actual released games to their pre-release publicity artwork: were the artists' renditions of the graphics even close?
By Popular Request!
Phosphor Dot Fossils Level 2 features increased coverage of some of the non-A-list classic consoles and computers, from the Fairchild Channel F, Bally Professional Arcade, RCA Studio II and Emerson Arcadia 2001 to the infamously underpowered Mattel Aquarius Computer. And on the more recent end of the spectrum, there's increased coverage of popular systems such as the Nintendo Entertainment System, PC/PC-compatibles and Commodore 64. All-new factoids, memorabilia and vintage commercials put it all in context, set to an all-new original music score.
Phosphor Dot Fossils is a celebration of the evolution and innovation of arcade games, home video games and computer games. If you missed the early all-time greats and haven't seen them in person, don't worry – PDF puts it all at your fingertips, with a fast pace, a retro-circuit-tastic look and an original musical score.
These are video DVDs depicting the timeline of the evolution of video games, and the business decisions, personalities, and marketing thereof. The DVDs contain no playable games, no ROMs, and no emulators.