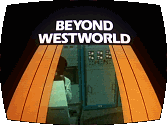 Moore's old friend Corey Burns, a race car driver for the Lionstar family racing team, is preparing for the Daytona 500 until a freak accident leaves him paralyzed, and the race car in ruins. Another accident shortly thereafter claims the life of Eric Lionstar himself, and Moore thinks Quaid and his robots are involved. Lionstar's daughter, Diana, is ready to throw in the towel until Moore convinced Delos to sponsor the Lionstar race team, and continue preparations for Daytona. Moore and Pam join the Lionstar team, scoping out their fellow team members to figure out which one of them is a robot planted by Quaid…and waiting to find out just how personally Quaid will take Moore's involvement in the race.
teleplay by Martin Roth
story by David Bennett Carren
directed by Jack Starrett
music by George Romanis

Cast: Jim McMullan (John Moore), James Wainwright (Simon Quaid), Connie Sellecca (Pamela Williams), William Jordan (Joseph Oppenheimer), Michael Cole (Corey Burns), William Bryant (Eric Lionstar), Paul Liapis (Carlos Monetti), Michael Pataki (Aldo Ortiz), Christine Belford (Diana Lionstar), Ann McCurry (Roberta), Maray Ayres (Nurse with Lionstar), Trish Guzey (Nurse with Corey), Robin Svarvari (Security Technician), Ron Troncatty (Bill Johnson), Howard Vann (Sports Announcer), Russell Johnson (Patrick)

Notes: Though filmed and completed, this episode was left unaired by CBS in the wake of Beyond Westword's cancellation after only three weeks on CBS' Wednesday night schedule. And yes, that is Russell Johnson – the Professor of Gilligan's Island fame – in an incredibly brief appearance as Quaid's right-hand-man of the week.
LogBook entry by Earl Green