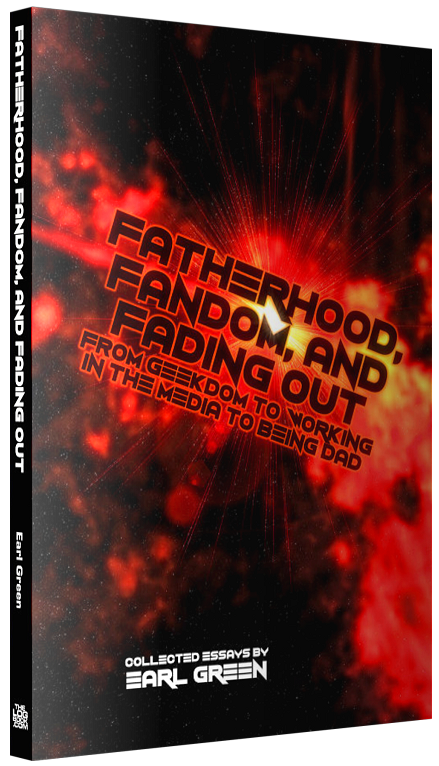 Surprise! New book! And probably (with apologies to Steven Moffat) not the one you're expecting. Fatherhood, Fandom, and Fading Out is a book of essays, largely culled from this very blawg as well as from theLogBook.com 'Zine, though there are a few "previously unreleased bonus tracks" in the mix as well, and of course everything's been modified so it works as a book. Watch for it later this week in theLogBook.com Store and Amazon.com.
So let's talk books for a little bit, because I haven't talked books in a while, and the last time I did talk books, this new one wasn't even a gleam in my eye.
FFFO, as I've come to call it, is just a little bit of a stopgap project, something that will (hopefully) bring in a wee bit of scratch while I finish up working on the next book, which will be WARP!1, the first Star Trek guidebook in a format similar to my previous Doctor Who guidebooks, VWORP!1 and VWORP!2 (both still very much available in theLogBook.com Store, by the way). But it's not a completely cynical, let's-make-a-quick-buck thing. The element of the VWORP! books that has gotten more feedback than anything is the brief essays that offer much-needed detours from the synopsis/cast-and-crew/trivia/review format that is 90% of those books. The essays seem to connect with people – a lot. So an all-essay book was always in the offing; I simply decided to move it up in the schedule, just in time for Fathers' Day no less, while I decided what to do about the WARP! books.
Because the playing field has changed a bit where WARP! is concerned. We now have a new Star Trek series in pre-production, with such luminaries as Bryan Fuller, Nicholas Meyer, and Rod Roddenberry doing the honors. After years of mega-budget popcorn flicks bearing little resemblance to the Star Trek we know and love, the idea of an all-star return to form is incredibly appealing…and it changes things up a lot. Read More