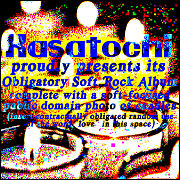 There's a new Kasatochi album, about an hour long, featuring video-game-style chiptune covers of venerable soft rock, R&B and power ballad favorites. And where, in the early days of Kasatochi, it used to take me one caffeinated insomniac night to take a new album-length Kasatochi download from concept to completion, this one took two years.
Consider this post a set of "liner notes" explaining why.
At the beginning of 2015, I began working on Obligatory Soft Rock Album – or, more properly, Kasatochi presents its Obligatory Soft Rock Album…complete with a soft-focused public domain photo of candles…(insert contractually obligated random use of the word "love" in this space) with the idea that I'd get it done in time for Valentine's Day…2015. That didn't happen. I had a new baby to take care of, a seven-year-old to take to school, and employment to look for. I had the first two tracks done…and made a mental note to try to get back to it for Valentine's Day 2016.
That didn't happen either. At the beginning of 2016, for obvious reasons, I wasn't exactly feeling romantic. Still not feeling romantic, really, but I began working on this afresh over Thanksgiving of 2016 and into December, finally finishing it in January…pretty much two years after I'd started it. (Fun fact: the ironic album title actually predated the domestic implosion – generally speaking, any given Kasatochi album or EP cover is done while listening back to the earliest tracks.)
There's another Kasatochi project that's been percolating for about a year, which I can hopefully roll out this year…and if you don't like all this digital balladeering, you'll probably dig that one a lot more. Although I'm really happy with Obligatory Soft Rock Album.
How much gas is left in Kasatochi's tank? I don't know. I tried to do a "final release" once already, only to discover that I needed more podcast background music, and once done for the podcasts, that music formed the next several releases. That will likely continue to be the case, especially as long as Select Game is still in production (the Select Game Season 2 soundtrack is already up to ten tracks). I know that there's a wide category of "podcasts with chiptune intros", but I really like doing my own intros and music beds. I own my own workflow. Kasatochi will probably be around as long as the podcasts are around.