Little E turned 7 on the 19th – wow! Despite numerous suggestions that he was going to get a baby brother for his birthday, I wanted him to have one last big birthday bash all to himself. And so did he – after attending two birthday parties in the same weekend, two weeks prior to his birthday, he suddenly announced that he wanted to have a birthday party too, one that all his friends could attend. Maybe at the park. Maybe the park with the ducks. Which, with two weeks to go, is quite the bold declaration. Attempts to look into reserving the park with the ducks yielded little information, and in any case the forecast for his birthday was looking like an outdoor party might be a bust. I started looking around for possible venues, but it was too close to the actual date; a second birthday party would have to be held a week after the 19th.
Party #1
Party #1 was nothing to sneeze at. After all, there were cupcakes with well-trained dragons…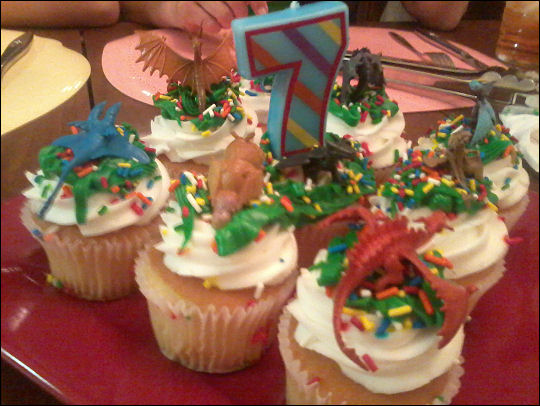 And books about well-trained dragons…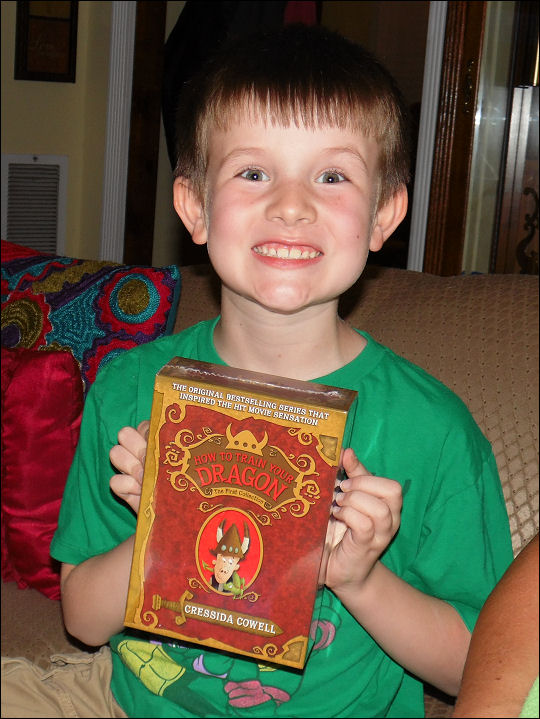 Books about less-well-trained cats (what are the odds?)…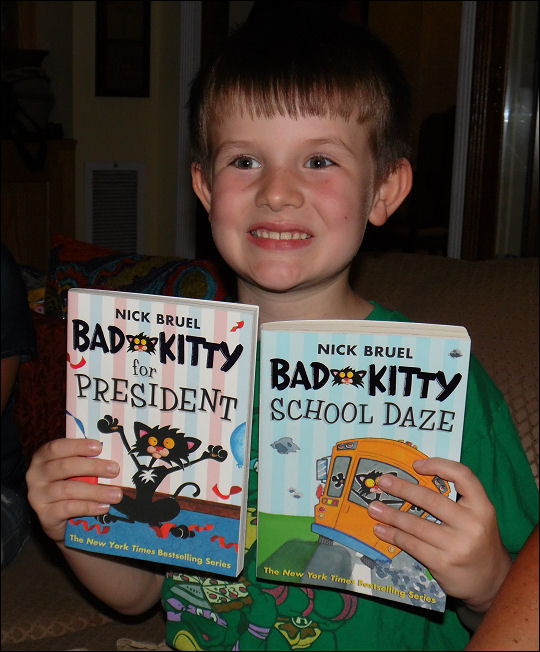 And books about E's favorite thing right now…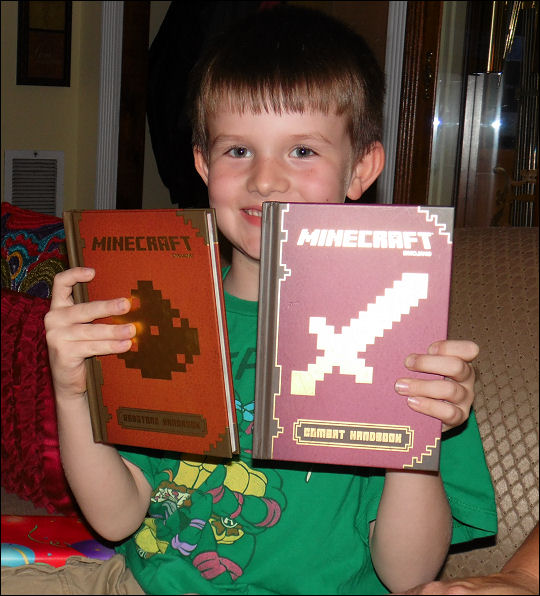 In fact, there was a lot of Minecrafting going on…
…and it went on until the cows (and pigs and chickens and sheep and wolves and ocelots) came home.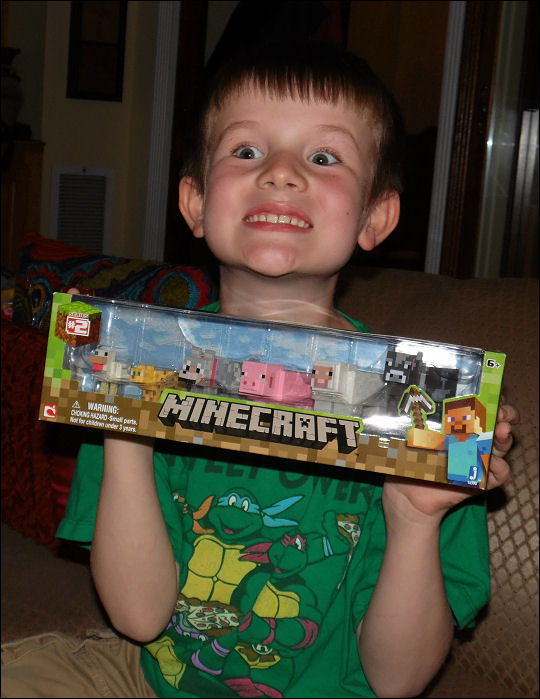 Nerf weaponry was available in the event of zombie or creeper attacks…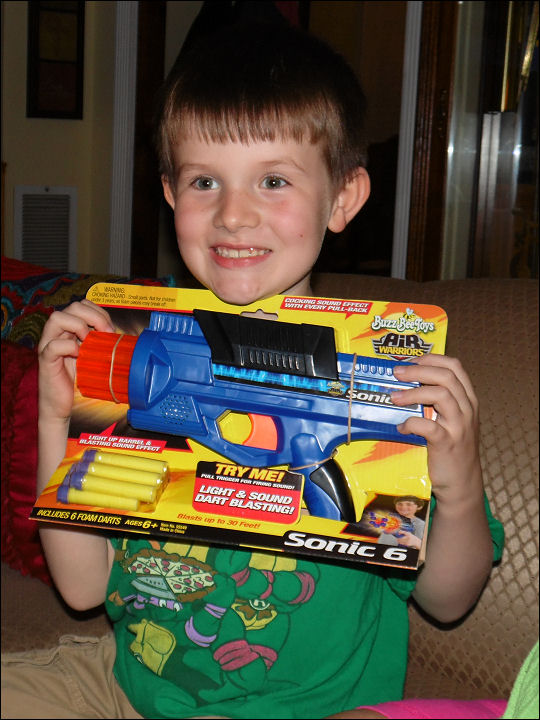 …and even clothes met with his approval.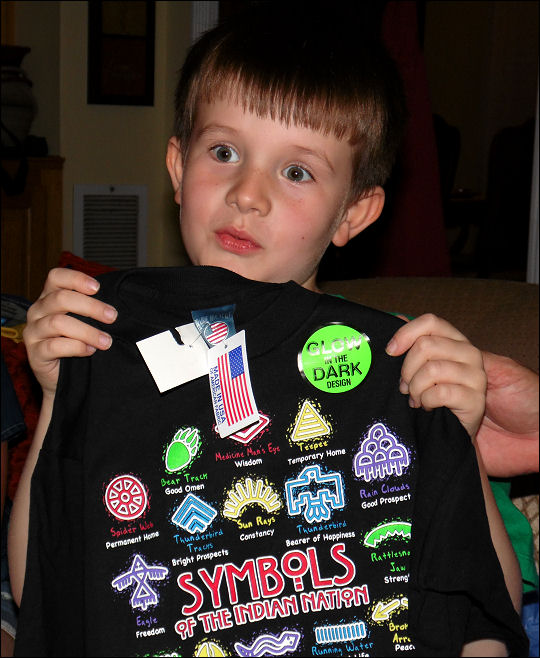 Since recent years' conventions have gotten him hooked on buying other folks' perler bead creations, I got some beads and boards so he can start making his own. We worked on these simple starter creations. They glow in the dark! 2K monies each please!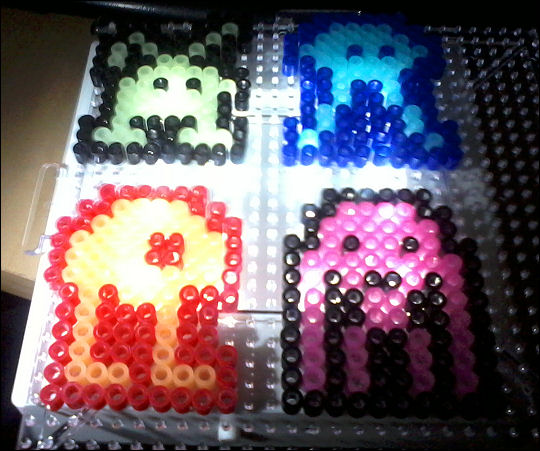 Unfortunately, E's actual birthday was brought to a very unhappy halt not long after he went to bed for the night: the combination of lots of play outside in the heat, lots of food, and lots of running around and playing with his cousin after wolfing down cupcakes… well, it ended explosively. After several barfs (barves?), I was nearly out of sheets to put on his bed – we went through three sets in rapid succession, and laundry had to start immediately. E spent the weekend recovering and eagerly reading his new books. (Say what you like about the Minecraft money-making machine and its multitudes of merchandise, the handbook series keeps his nose in a book. Though to be fair, he's been reading all of his new books eagerly.)
Fortunately, earlier that day, the following invitations went out to his classmates…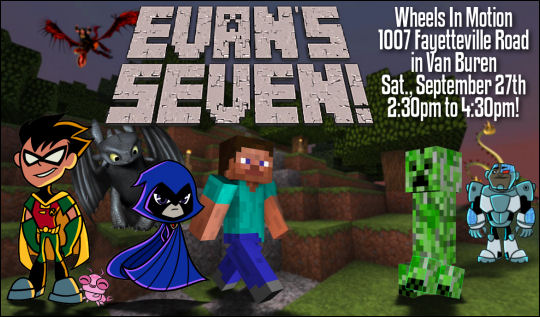 …which brings us to a week later.
Party #2
With little time to get it together, every possible venue was considered for the birthday party that E's friends would attend, including Arkadia Retrocade, though sanity finally set in: I was asking a bunch of families from Fort Smith to trek to Fayetteville for a two-or-three-hour birthday party, on a game day weekend… and with that combination I'd be lucky if two people showed up. As much as I want to just bus people up to Arkadia by the dozen, this was not the time.
Instead, the party was at Wheels in Motion, a Van Buren skating rink that also has a huge room of rock walls, climbing towers, in-floor trampolines, and other play equipment…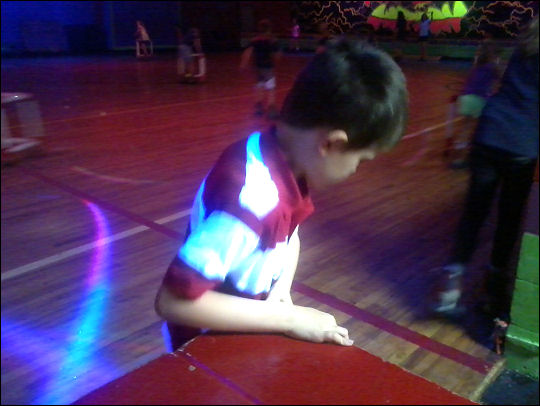 …which is good, because E's patience with trying to skate wore out very quickly!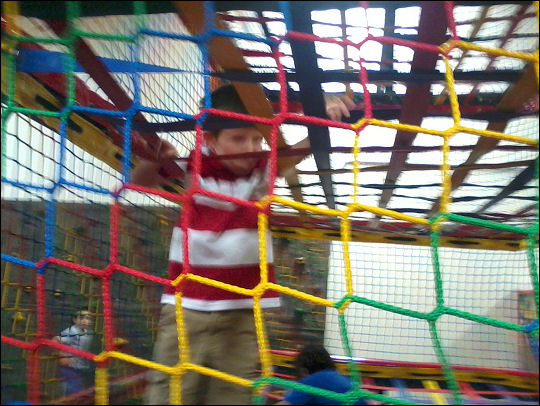 Climbing was much more up his alley. "Up" being the operative word…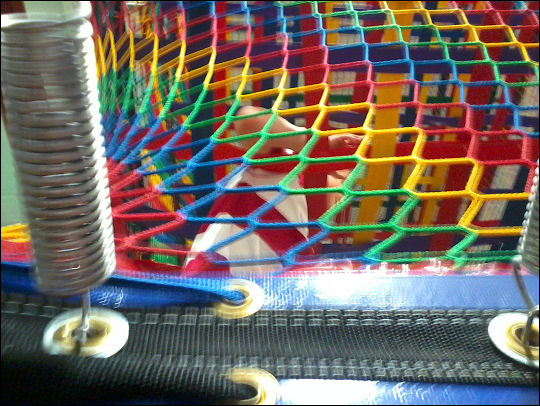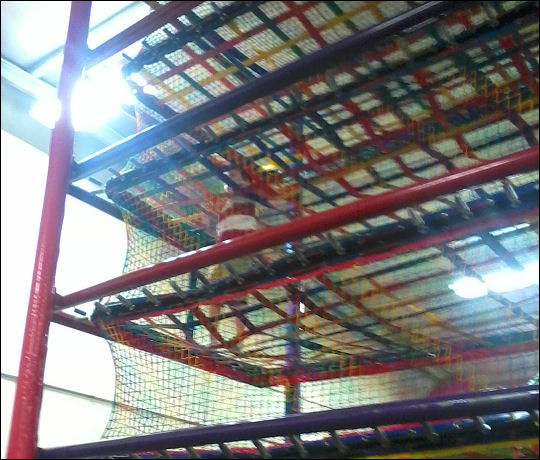 Running around and sliding with his friends was also on tap…
(insert obligatory extra hour in the ball pit joke here)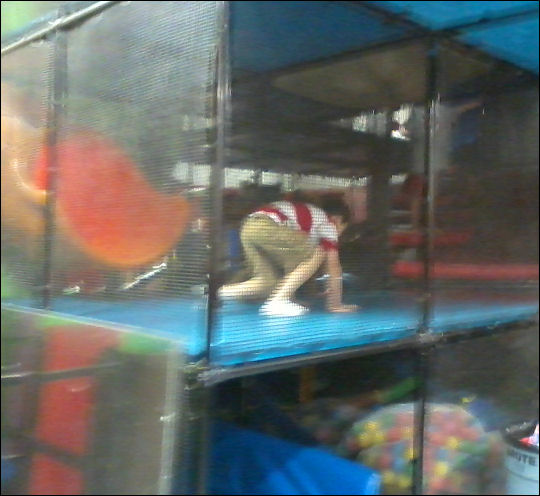 The trampolines were a big hit, as you can tell from this very happy little blur of a boy…
…though E and his clever classmates eventually became interested in how exactly these bouncy floors worked, and had to investigate.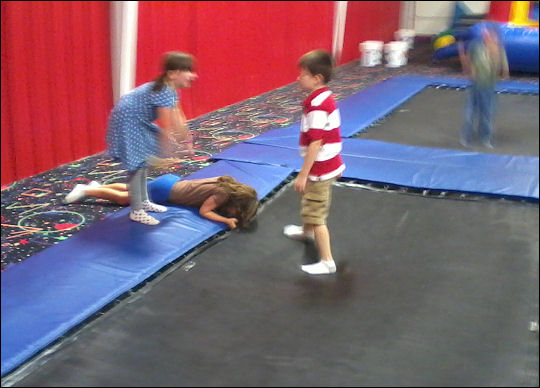 E and his very sweaty friends (a few of them with skating rink war wounds!) get ready for the cake.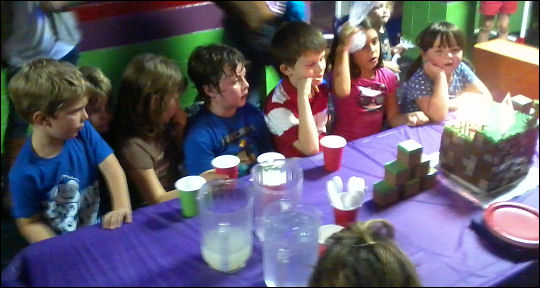 I did mention the cake, didn't I? My sister-in-law made it. From scratch.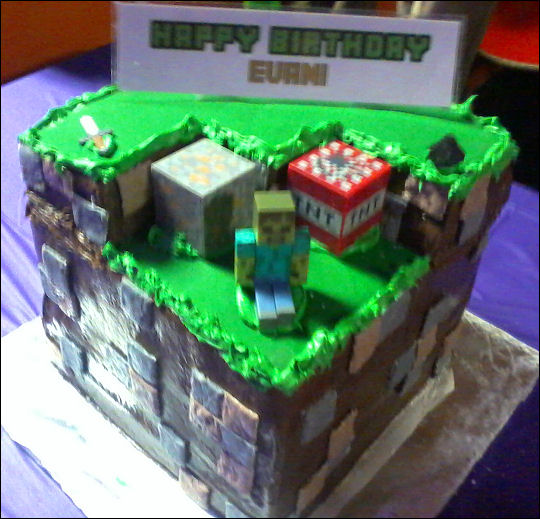 It is as huge as it looks. Having a bakery make a single-layer "licensed" Minecraft cake would've run over a hundred bucks. And the probability of it being this cool probably would've run right about zero.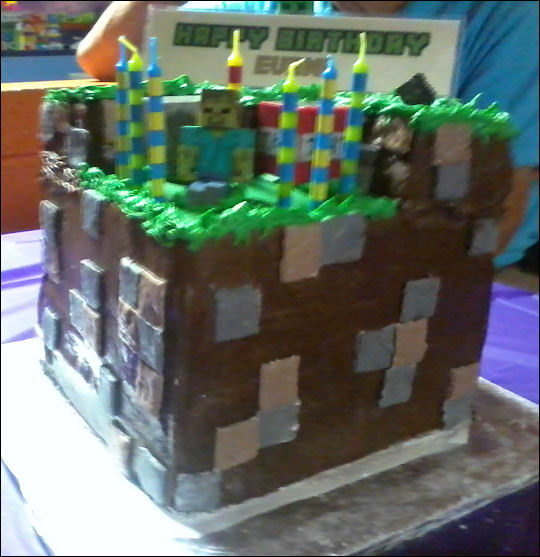 There was a blur of activity when the presents were rolled out. E is notoriously OCD about trying to open wrapped presents without tearing up the paper. His friends… not so much.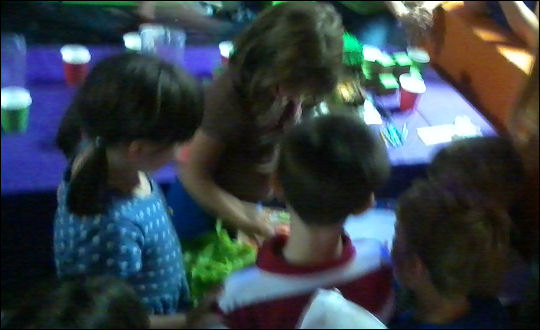 By the time any of the cake made it home… it had been very well mined. (That's still a lot of cake. Really, really yummy cake.)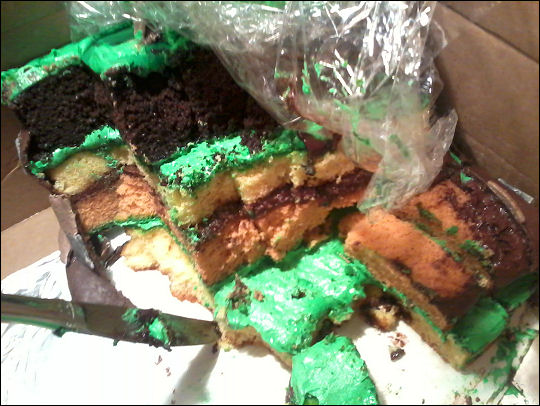 I wanted E to have one big birthday bash before the year turns a corner and suddenly becomes all about little brother. If I may say so myself… mission accomplished.