RageCast! A bold new idea in weather forecast stupidity in which I look at the probability map for an upcoming severe weather event and try to match its shape to that of an internet meme "rage face."
Tomorrow is not lookin' pretty, folks – seriously, just talk to the face.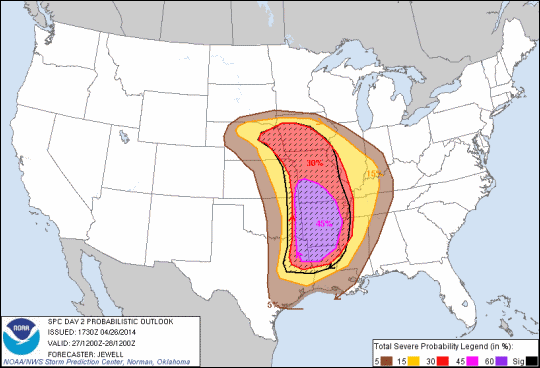 You got it – that's the "are you f___ing kidding me?" face. Here's what the Severe Storm Prediction Center has to say:
STRONG INSTABILITY WILL DEVELOP AHEAD OF THE DRYLINE AS MID TO UPPER 60S DEWPOINTS SURGE NWD AND HEATING OCCURS. DEEP-LAYER SHEAR WILL BE PERFECTLY ORIENTED RELATIVE TO THE DRYLINE FOR DISCRETE SUPERCELLS. GIVEN THE DEGREE OF BOUNDARY LAYER CONFLUENCE AHEAD OF THE DRYLINE…AND STRONG HEATING AND MOISTENING…A PRE-FRONTAL BAND OF SUPERCELLS COULD FORM OVER SRN AR…NRN LA…AND NERN TX. SUPERCELLS WILL INITIALLY BE CAPABLE OF VERY LARGE HAIL…WITH AN INCREASING TORNADO THREAT AS THEY MATURE DURING THE LATE AFTERNOON AND EVENING. SEVERAL STRONG TORNADOES APPEAR POSSIBLE…AND A HIGH RISK COULD BE ISSUED IN SUBSEQUENT OUTLOOKS ONCE CONFIDENCE IN THE BEST CORRIDOR INCREASES.
The Tulsa office of the National Weather Service sez:
SIGNIFICANT SEVERE WEATHER…INCLUDING STRONG TORNADOES…VERY
LARGE HAIL TO BASEBALL SIZE…AND DAMAGING STRAIGHT LINE WINDS TO
70 MPH…IS FORECAST SUNDAY AFTERNOON. THE AREA AT GREATEST RISK
REMAINS FOR LOCATIONS EAST OF U.S HIGHWAY 69…ACROSS FAR
EASTERN OKLAHOMA INTO NORTHWEST ARKANSAS. THE MOST LIKELY TIME
FRAME FOR THE GREATEST THREAT WILL BE BETWEEN 3 PM AND 10 PM.

IF STORMS EVOLVE SATURDAY NIGHT TO THE WEST…THEY MAY BE ONGOING SUNDAY MORNING BEFORE MOVING EAST OF THE AREA BY AROUND MIDDAY. SEVERE POTENTIAL INCLUDING LARGE HAIL AND DAMAGING WINDS EXISTS WITH THIS ACTIVITY.

FOCUS THEN TURNS TO LATER IN THE DAY…WITH THE DRYLINE FORECAST TO MOVE EAST TO NEAR HIGHWAY 75 BY EARLY AFTERNOON AND TO NEAR THE HIGHWAY 69 CORRIDOR BY MID TO LATE AFTERNOON. SCATTERED SEVERE THUNDERSTORMS WILL DEVELOP ALONG THE DRYLINE BY MID TO LATE AFTERNOON AND MOVE EAST OFF THE DRYLINE THROUGH MID EVENING. THESE STORMS WILL POSE THE MOST SIGNIFICANT SEVERE RISK…INCLUDING THE POTENTIAL FOR STRONG…LONG-TRACK TORNADOES…VERY LARGE HAIL UP TO 3 INCHES IN DIAMETER…AND DAMAGING STRAIGHT LINE WINDS TO 80 MILES AN HOUR.

THUNDERSTORM CHANCES WILL CONTINUE INTO MONDAY ACROSS FAR EASTERN OKLAHOMA AND NORTHWEST ARKANSAS AHEAD OF THE PACIFIC FRONT AS IT OVERTAKES THE DRYLINE.
So… while I'm having a bit of fun with it, this is not going to be a situation to be trifled with. This one smells like trouble. And five-week-old pizza. Which may be two different ways of saying the same thing. Stay safe.