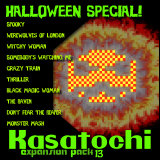 Appropriately enough, Kasatochi rises from the dead just in time for Halloween with some songs that, if they aren't actually scary in and of themselves, are thematically linked to ghouls and goblins and other such denizens of the dark. I'm putting this out there a little bit early so anyone wanting to work some creepily-themed chiptunes into their DJ set has time to do so.
01 – Spooky
02 – Werewolves Of London
03 – Witchy Woman
04 – Somebody's Watching Me
05 – Crazy Train
06 – Thriller
07 – Black Magic Woman
08 – The Raven
09 – Don't Fear The Reaper
10 – Monster Mash + mystery bonus track
Hey, Crazy Train always scared the hell out of me. Or maybe it was just the guy who sang it. Also, here, finally, is Thriller – the most-requested Kasatochi conversion… well, pretty much ever. You people have a… shall we say… zombie-like devotion to your Thriller, don't you?
Go to the dedicated Kasatochi page and download it for free. Do it to stop Kasatochi before it kills again!