So, in 2006 when I last moved my all-wood computer desk into the corner to accomodate the Avid (which the desk outlived), I made a mental note at the time that the desk probably would not survive another move. Disassemble in situ, the note said, and just replace it with a newer one. I'd had the desk since 1999, when I moved back to Arkansas, so it had lived a long and useful live.
Today… guess what? I forgot that mental note. The desk disassembled itself in situ. I now have… no desk. And, helpfully, no money with which to get a new one to replace it.
So it's time to apply my dad's rule of "go with what ya got": I have the long end of the old 1999 desk, sitting across the two white plastic shelf units I bought for OVGE in… geez, 2006? It's a surprisingly sturdy setup so long as no one gives it an almighty jolt. I'm keeping an absolute minimum of stuff on it: two keyboards, two mice, two speakers, three monitors, done.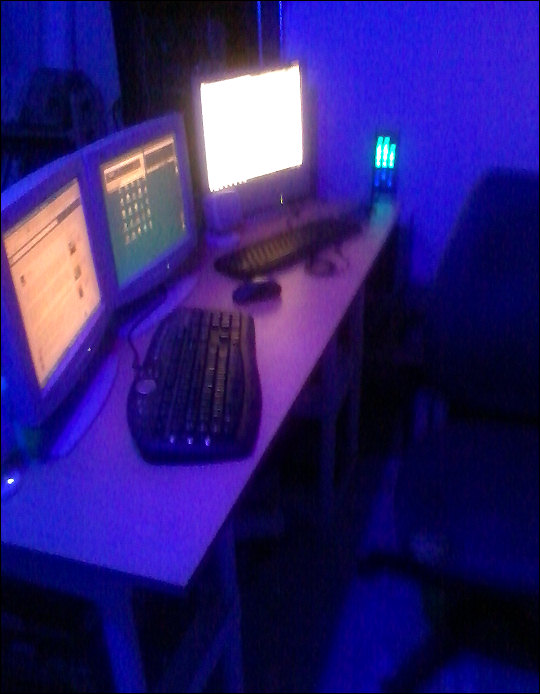 Hear me baby? Hold together. At least long enough for me to file incorporation papers for Redneck Computer Services LLC. Because… that's what this setup looks like.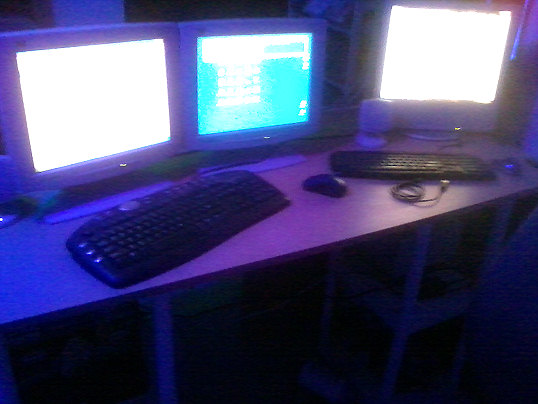 The desk, not long after installation in my apartment in 1999, so many years and computers and keyboards ago (but, amazingly, that IS the same monitor):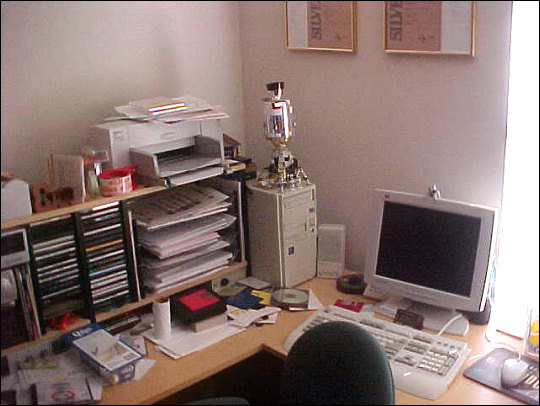 Farewell, old friend. Thanks for holding vast quantities of my crap for almost exactly 14 years.