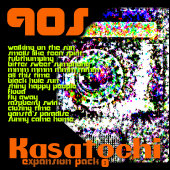 I think I've forgotten to Kasatochi everybody at any point in the past seven days. To make up for it, here's a larger-than-usual EP celebrating that most wildly uneven and frequently banal decade of music… even though I'd like to think I got that decade whittled down to its best or most bizarre examples. Downlaod it for free and you can be the judge of that.
01 – Walking On The Sun
02 – Smells Like Teen Spirit
03 – Tubthumping
04 – Bitter Sweet Symphony
05 – Mmm Mmm Mmm Mmm
06 – All This Time
07 – Black Hole Sun
08 – Shiny Happy People
09 – Flood
10 – Fly Away
11 – Raspberry Swirl
12 – Closing Time
13 – Gangsta's Paradise
14 – Sunny Came Home
Laugh at track 5 all you like – it makes better game music than you'd think. As do track 8 and track 13. Track 14 is a guilty singalong pleasure of mine (yeah, okay, shaddup).
Go back in time, but only about a decade and a half, to the dedicated Kasatochi page and download it for free.