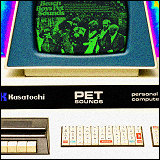 This "full album cover" has been in the works for ages – almost since the beginning of the whole Kasatochi project. I'm terribly fond of the original album and wound up having to sequence some of it myself.
01 – Wouldn't It Be Nice
02 – You Still Believe in Me
03 – That's Not Me
04 – Don't Talk (Put Your Head on My Shoulder)
05 – I'm Waiting for the Day
06 – Let's Go Away for Awhile
07 – Sloop John B
08 – God Only Knows
09 – I Know There's An Answer
10 – Here Today
11 – I Just Wasn't Made for These Times
12 – Pet Sounds
13 – Caroline No
Gotta love that cover. No, seriously: you are required to love it.
True confession: I had momentary crazy thoughts about making this the first Kasatochi download with vocals, because who doesn't want to take a swipe at "God Only Knows"? I love singing it in the shower, at any rate. Fortunately for your ears, dear listener, a lack of time and a decent recording space won the day.
Get ye to the dedicated Kasatochi page and download it for free.