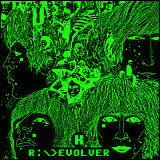 Kasatochi has already done collections themed to specific eras, artists, and even TV/movie franchises, and it will continue to do collections with those themes. But this collection of chiptune covers centers on a specific album. Namely, one of the best albums ever to hit our ears. It's not intended to be a replacement or a remix of that album, but is instead just a fun attempt to reinterpret it all through the sonic filter of late '80s video game systems. What would it sound like if the Fab Four had done video game music? Well, it might have sounded like this.
01 – Taxman
02 – Eleanor Rigby
03 – I'm Only Bleeping
04 – Love You To
05 – Here There And Everywhere
06 – #ffff00 Submarine
07 – She Said She Said
08 – Good Day Sunshine
09 – And Your Bird Can Sing
10 – For No One
11 – Doctor Robert
12 – I Want To Tell You
13 – Got To Get You Into My Life
14 – Tomorrow Never Knows
Download kasatochi-revolver.zip (83mb)
Next week we're back to an era-themed EP, and the week after that a full album-length collection of some of the best Kasatochi yet. But fear not… this won't be the only full album to get the Kasatochi treatment. (A pretty blatant clue can already be found in the forums.) A new page has also opened to serve as a "central clearing house" for all of the Kasatochi craziness to date – just click the graphic below. Kasatochi crazy.