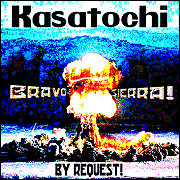 When I embarked on my little musical joke a little over a month ago, I wasn't anticipating that it'd gain the kind of traction that it has. And here's the proof: between Facebook, Twitter and e-mails I've received, you have here in your little virtual hands an entire EP of listener requests. And believe me when I tell you that I had no idea how this was going to turn out. 😆
Right-click to download kasatochi-req1.zip (76mb)
Fun fact: I pushed back the schedule of stuff I'd already put together for release because the entirely random tracklist – eight songs requested by eight different people – was pretty damn strong, including a transition between two songs that I wish I'd known about in my radio days. What an eye-opener!
The list tends toward classic rock, but there's also some movie soundtrack in there, just a smidge of disco, and other fun stuff. And just to drive you crazy, I'm not even going to reveal the songs themselves, but the artist most commonly associated with them.
1. Kraftwerk cover
2. Carl Douglas cover
3. John Williams cover
4. Kansas cover
5. Manfred Mann Earth Band cover
6. Guess Who cover
7. Sting cover
8. Rush cover
Now there's a mix for the musical connoisseur. And they all make kick-ass chiptunes. I wish I'd thought of this tracklisting.
Keep 'em coming, folks. Also: those who have been requesting artwork files to go with each album, the current compilation of those is here (right click to download; 7mb). This includes the cover art for all releases to date at full resolution, plus, maddeningly enough since I'm a big meanie, covers for releases yet to come! Better that than falling behind, right? Watch this space.